Best Bookmakers for 2020?
UK's Best Bookmakers 2020
Whether you're new to online betting or experienced in the field, finding the best bookmaker can be a difficult task. There's much to consider: who offers the most competitive odds? The biggest range of markets? The best promotions? The essential question is, who are the best bookmakers 2020?
Bookmakers challenged to offer the most comprehensive and in-depth betting service. This, of course, is to attract new customers as well as retain their current member base. For customers, though, it can be an arduous task to distinguish between bookmakers and find the sites that are right for them.
It's a tough ask to find the so-called 'perfect' bookmaker. Our task is to analyze the various offerings available in the UK right now, in order to provide you with extensive knowledge of what's available with each operator. We have previously compared the best bookmakers based on specific criteria so you can find the operator that best suits your betting requirements. We've researched and analyzed a number of criteria. You'll find bookmaker comparisons on the following categories:
Social Media
Sports Covered
Customer Support
Mobile Betting
Esports
MMA
Football Odds (English Premier League)
Banking
European Football (Champions League)
American Sports
For our comparison of the best bookmakers 2020, we considered all of the UK's top online operators. For clarity, the table below displays the list of bookmakers that we have researched over the past twelve months.
As the above table shows, we've not just focused on the bigger names on the market. We've considered what's available at a huge range of operators, in order to offer you the most comprehensive guide to the best bookmakers 2020.
All of the results we supply in this article are based on the research conducted this year in each category.
Top 5 Best Bookmakers 2020
To develop our guide to the best bookmakers 2020, we've collated all of our previous research to determine who offers the best overall betting experience. We believe we present the most definitive bookmaker comparison in 2020. Let's take a look at our top 5 bookmakers 2020 and where each operator has scored highly.
Why Is bet365 The Best Bookmaker 2020?
No matter whether you're an experienced bettor or otherwise, it's almost certain you've heard of bet365. No matter if you're familiar with their advertising, their range of markets or their odds, bet365 is the number one choice for a huge number of bettors, and for good reason too.
Bet365 performed well across all criteria, with particular mention to sports covered, social media, esports and banking options.
Why is each aspect important to you as an online bettor? Let's start with the sports covered. This is particularly key if you have a varied taste in betting. At its most basic level, the more sports available to bet on, the more betting options you have.
For example, it's possible to find much more value in so-called less popular sports than you'll find on more common events, like football, tennis or basketball. In addition, a bookmaker that can cater to most bettors demonstrates their desire to provide an excellent betting service for all.
Bet365 also performed well in our social media comparison. The use and popularity of social media have risen rapidly in recent years. For bettors, this is important, that Bet365 is easy to make contact with if you're in need of any help via their social media channels. On occasion, this operator also makes available offers and promotions for social media followers. It can also be so much easier to keep up to date with new and existing bonus opportunities.
Communication between bookmakers and bettors is vital for building trust. This is one of the main reasons why a good social media presence is important.
Onto esports. Excellent addition to the bet365 repertoire, esports betting provides plenty of options, both pre-game, and in-play.
Finally, bet365 impressed us with their range of safe and secure banking options. One of the more forgotten aspects of online betting, being able to utilize a number of different payment options should be considered just as important as any other aspect.
Why Is Unibet The 2nd Best Bookmaker 2020?
For those who are new to online betting, or are only familiar with the bigger names in the industry, Unibet taking second place might come as somewhat as a surprise. Not to us, though, and not to those who are experienced in online betting.
Unibet is certainly amongst the best bookmakers 2020 for many reasons. Unibet offers a huge range of sports available to bet on, with many of these sports subject to regular promotions and bonus offers. In fact, in this particular bookmaker comparison, Unibet came out in number one spot.
Where Unibet really excels, though, is in their football odds, with specific regard to the English Premier League and European football.
In our EPL odds bookmaker comparison, Unibet earned a top spot here too, alongside 888sport. Finding a bookmaker that consistently offers the most competitive odds on your chosen sport or league is key to maximizing your profits. This should be a serious consideration when you're looking to sign up for a new bookmaker.
Why Are Betfair And Betsafe The 3rd Best Bookmakers 2020?
For our bookmaker comparison of 2020, we have a tie for third place. Betfair and Betsafe excel in different areas, we'll start with Betfair.
Betfair is one of the most popular and well-known bookmakers in the UK right now. Their betting exchange receives widespread praise, but for our Top 5 bookmakers 2020 comparison, we're focusing on what's available with their Sportsbook.
There are three aspects in particular where Betfair impresses. Their social media presence is amongst the most admirable in the UK, which, as we've discussed, can help customers and operators maintain excellent communication and build trust.
Betfair's mobile betting platform and the app also performed well during our research. The option to place a bet, make deposits and withdrawals and find the latest odds no matter where you are is a huge plus point. Most bookmakers now offer some form of mobile betting, Betfair's offering is amongst the most popular and is a key reason why they're named in our top 5 bookmakers 2020 list.
We also found exciting and impressive betting options for American sports. Our research for this bookmaker comparison involved finding odds and markets on specific games taking place in the NHL, NFL, and NBA.
American sports have garnered huge interest on this side of the water. This interest is shared by bettors, too. We found great options for American sports betting at Betfair.
Onto Betsafe, now. Rarely mentioned as amongst the best bookmakers 2020, we believe that this opinion should change soon. Betsafe performed well in most of our bookmaker comparisons, in particular in customer care, MMA and football odds, focusing on the English Premier League.
Similar to banking, customer care is often overlooked by bettors when they're choosing a new bookmaker. However, similar to banking, this aspect is extremely important.
From time to time, you're likely to encounter issues with your online bookmaker. This could be a question about a bet, a sign-up issue, a problem with a payout and so on. A bookmaker that possesses a good customer support facility can help solve these issues quickly and efficiently. It also helps to build trust between punter and bookie. Betsafe impresses considerably here.
MMA, in particular, UFC action, has become incredibly popular over the last two or three years. Betting on MMA action can provide plenty of value, too. As part of our research for MMA bookmakers, we analyzed what odds were available on the biggest fights of UFC 239, namely the fight between Jon Jones and Thiago and Amanda Nunes v Holly Holm.
Betsafe performed magnificently against some of their bigger-name competitors, offering a range of markets and competitive odds.
We are also happy with the quality of odds available on the Premier League action Betsafe offer.
Why Is 888Sport The 4th Best Bookmaker 2020?
In fourth place comes 888sport. 888sport impressed in a number of categories, but particularly in our Premier League football odds, European football and sports covered categories.
Like Betsafe, 888sport is rarely mentioned amongst the best bookmakers 2020 but they should be. If you're looking for a bookmaker that offers odds on a wide range of sports, you'll find it here. Fan of betting on football and the EPL in particular? Check out what's available on the 888sport site.
Why Is William Hill The 5th Best Bookmaker 2020?
Rounding up our top 5 bookmakers 2020, William Hill takes the fifth spot. One of the more established names of the industry, William Hill maintain their reputation, along with their huge customer base, by offering a great all-round betting service.
As you'd expect from one of the biggest names in betting, there's much to be excited about with William Hill. Where do they particularly impress?
Their mobile betting service and the betting app are one of the more impressive aspects of William Hill. We've already seen how important it is to your betting experience to have the option to place bets no matter where you are. This operator certainly provides this.
William Hill came out in number one place for our American sports comparison. With betting on baseball, basketball, American Football and ice hockey growing in popularity check out what William Hill can offer here. They certainly deserve their reputation as one of the best bookmakers 2020.
Their social media presence also appeals. Maintaining communication and contact with their customers using social media platforms, as well as the usual channels, customers can feel safe they're receiving up to date information and the latest bookmaker promotions.
You can see 2019 all the top performance here: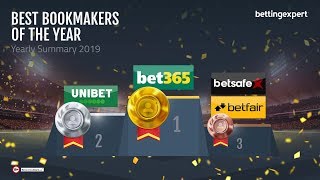 Bookmaker Comparison 2020 | Summary
For our bookmaker comparison 2020, we've seen that bet365, Unibet, Betfair, Betsafe, 888sport, and William Hill can all be considered as serious challengers to be named the best bookmaker. Are there any other operators who offer good betting experiences?
Yes, of course. As we conducted our research in our quest to find the best bookmakers for 2020, a number of other bookmakers stood out. In particular, Marathonbet, LeoVegas, and Coral were all close to breaking into our top 5 bookmakers 2020 list. Marathonbet impressed us in customer care, MMA and European football categories; LeoVegas offer competitive football odds and an excellent range of sports, with Coral also performing well in the sports coverage category.
We expect to see big things from these three bookmakers, in particular, as we look for the best bookmakers 2020.
For now, though, after analyzing all research conducted and data gathered, we can conclude that it's bet365 who offer the best all-round betting experience, taking into consideration a range of topics.
All of our research is based on results gathered during specific time periods, the year 2019. Our results could be different when we conduct research at other times and in other countries.
Whichever bookmaker you choose this year, remember to always gamble responsibly.