How To Bet On The Cheltenham Festival
When the 2019 Cheltenham Festival draws near, there is a palpable sense of excitement among racing fans. But when it comes time to bet on Cheltenham races, it is all too easy to get sucked into the atmosphere and lose all sense of punting and financial perspective. Far better to stay under control and remain in your punting comfort zone even when there are 28 top class races to study and attack.
The question is, as it is each year, how to bet on the Cheltenham Festival and come away with a profit? When betting on Cheltenham, many people end up blowing months of diligent, disciplined betting just because they are "pumped" for four days of superb high class action. It is important to develop strategies and here we have compiled 10 Cheltenham Festival tips to successfully navigate the best week of the year.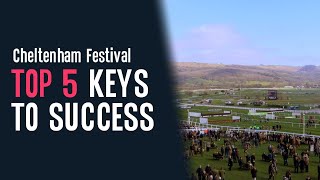 Free tips for each race at Cheltenham 2021
#1 – Avoid the hyped up and overbet top trainers and horses
Every festival has "bankers" and "certainties" that the public at large latch onto and send off ridiculously short prices in what remains fiercely competitive racing. These Cheltenham favourites are sent off at cramped odds as though it was a five runner race at Plumpton or Thurles on a Monday, as all sense of value and perspective goes straight out the window. Cheltenham stats suggest it's best to keep away from them horses.
These "superstars" are usually unbeaten (even if they have only beaten a handful of horses in slowly run races on much softer ground), and belong to top owners with a reputation for having winners at this meeting. There is rarely any juice these days in the Mullins and Walsh runners for example, with a legion of Irish punters piling in regardless of how short the price becomes on the day.
#2 – Keep the staking to a minimum unless there is a real edge
Too many punters play far bigger over these four days than they do normally, stumbling from race to race on the chase as they try to "get out" of trouble. There is no worse punting medium in the world than trying to find the winner of a 28 runner handicap around here, or smashing it on a 6-4 (2.50) chance with twenty horses trying for their life against it (around an undulating course that is designed to provide upsets). If you must play in every race, make sure the stakes are kept small unless you have a strong view or the odds are firmly in your favour.
One area where punters are sometimes favourite is the offer of 1/4 the odds a place on all Festival races that most bookmakers give. In races such as the Champion Hurdle (not many realistic runners on paper) there can be excellent each-way value with proven performers.
#3 – Follow Cheltenham form
One use of a punters' time that is well worth doing is to go back and watch the last few years of Cheltenham Festivals, making detailed notes as to festival form. Previous year's Cheltenham results can give us a window into how horses may perform this year. Particularly with a view to the ultra tough handicaps, you will see things and note down runners that performed better than the bare result and, almost regardless of their recent form, these will run well again granted similar circumstances.
The races at Prestbury are almost always run at an overly fast gallop, taking plenty out of their comfort zone and off the bridle far earlier than is normal during the rest of the season, and those horses that are suited by a strong pace and the stiff uphill finish are worth sticking with year after year. Look for thorough stayers likely to get a patient ride from jockeys like Noel Fehily or Davy Russell.
#4 – Play in the morning rather than off the shows later on
With competition for the punters pound higher than ever before (and in truth the aim is to snare a few mugs into the online casino), there will be terrific value around in the mornings on raceday. In previous years there was barely a race where the overall percentage was over 100% across all firms, and in some of the less competitive races they "beat the machine" on fancied contenders and bet to around 90% between them. You don't need to be a genius to realise there is some terrific value about, and the each-way terms in some of the 17 runner + handicaps (1/4 the odds 1,2,3,4) are amazing if you can get on.
Some bookmakers have managed to lose overall on the Festival for the past few years (Ladbrokes to name one, which is truly incredible given their customer base….not to say frightening if you are a shareholder), with advertising terms such as a "loss leader" banded about.
The astute punter will be setting the alarm at 5am every morning and getting the hoover out. There is no point playing "into figures" off the shows later on when the dust has settled and the cards have been shown (and the Betfair market has pinpointed the "right" prices out to the entire industry).
#5 – Have accounts teed up with all the firms, including the brave new ones
It is well worth having bookmaker accounts primed for this meeting, with companies keen to play the game and take on all comers in a way that is perhaps not the case during a run of the mill week of racing. Companies such as Betway have arrived on the scene with a bang and are keen to establish themselves as a major force in offering competitive racing prices (they have also taken on board huge sponsorship at the Festival and many other major races through the year).
It is worth going to the aggravation of setting up bookmaker accounts and putting yourself in a position to obtain the best price possible about your fancy. At the end of the week it could easily be the fine margin between winning and losing.
#6 – Look to back the hold-up horses in running when the pace is strongest
In-running betting is often now very illiquid and tied up by those playing off live pics (whilst the majority of punters are watching several seconds behind reality). But the Cheltenham Festival offers a far more level playing field and more pertinently plenty of money in the markets. There are opportunities to exploit plenty of angles and seeing something happen first can throw up plenty of edges for the fastest minds.
It is certainly the case that riders often go a stride too fast in Cheltenham Festival races as they are harried for the lead, and the value can lie in siding with those ridden out the back (especially in the handicaps where races develop a long way out and before the "complexion changing" steep hill after the last). There is also a chance to lay horses at far closer to their starting price (SP) in running early on if things appear to be going against them i.e a frontrunner pestered for the lead, or a smooth travelling bridle horse niggled at. And this is in part because liabilities are much bigger for layers and they may be trying to balance their positions after the off.
#7 – Forget whispers and use your judgement and assessment of value
The rumour mill is turning far faster at Cheltenham races than at any meeting during the year, with tales embellished and minor problems inflated. There is a never ending stream of misinformation going around, and naturally one tends to remember the one occasion when this turns out to be proved right rather than the twenty occasions it doesn't.
As a general rule you are better off closing your ears and opening your eyes, using the form book rather than second or third hand stories about what has been catching pigeons at home. Even if the "whisper" does have some element of truth it is almost certainly already in the public realm and crucially already factored into the price now available.
One tale that always amuses is when it emerges that an already multi millionaire owner has had £xxx,xxx on his horse, and then an army of sheep race to follow him in as though it has any bearing on the horses chance. It is the equivalent of a "normal" person having two quid each way on, yet generates excitement and a buzz as though he has any inside information and already "knows" the result of a 30 runner handicap.
#8 – Don't play in all Cheltenham Festival races
When you open the paper on raceday there is always a sense that you should not be playing on plenty of the races full stop. They are simply minefields of different formlines, on much softer ground at a different tempo, and frequently have a poor shape for betting purposes. Furthermore races such as the Cheltenham Gold Cup have been analysed and mulled over to death, with hundreds of the dreaded "preview evenings" picking over every possible angle and the prices very settled in a matured strong antepost market (and as near as damn it "right" in pricing up the contenders). You can find yourself becoming something of an "action junkie" over these four days, getting sucked into playing just to have a bet, with no obvious value but for the "buzz" of being involved in a top class sporting spectacle.
#9 – Take advantage of all the bookmaker offers and incentives
Make sure you take advantage of every "special", "pricebomb", "extra place", "money back if you finish second" offer going. The bookmakers are falling over themselves to attract your custom, and becoming a "price tart" for the four days is a very sensible strategy.
If you can combine obtaining the best price, with some of the best offers (and best odds guaranteed for all morning price betting) then you are halfway there on the way to making it pay (you just need to find the odd winner of two now).
A look at the price grids every morning will show books that have no margin at all for the layer, and shopping around for the top price is an absolute must.
#10 – Study Sedgefield very hard
All the true pros will spend half an hour glancing through the "bingo" card at Cheltenham and settle down to four hours of dissecting the seller on the "away" card at Sedgefield. There are usually a few horses laid out for this meeting, while all the eyes of the industry are focused on the festival and the usually punitive online stake limits are raised beyond punters wildest expectations. The races are like an oasis in the desert for the gnarled, astute backer with few runners, small fields and the edge firmly in their favour.
Furthermore the off course bookmakers tend to shorten up every favourite at this meeting, with much more volume of business than normal, and there can be some excellent value away from the obvious.
---
Read more bettingexpert Horse Racing guides