Royal Ascot Day 3 Tips 2020 – Thursday 18th June
Thursday has a new contest to get proceedings underway, with the Golden Gates handicap setting the punters a difficult puzzle to solve over one mile two furlongs. The Wolferton, Jersey and Chesham Stakes further wet the appetitite through the afternoon, with the biggest race of the week The Gold Cup providing the Group 1 highlight.
This thorough test of stamina has produced some terrific warriors over the years, with Double Trigger, Yeats and more recently Stradivarius establishing themselves as household names with memorable victories in the race.
---
Royal Ascot Day 3 2020 – Race Times & Fixtures
Royal Ascot Day 3 2020, Thursday 18th June, Schedule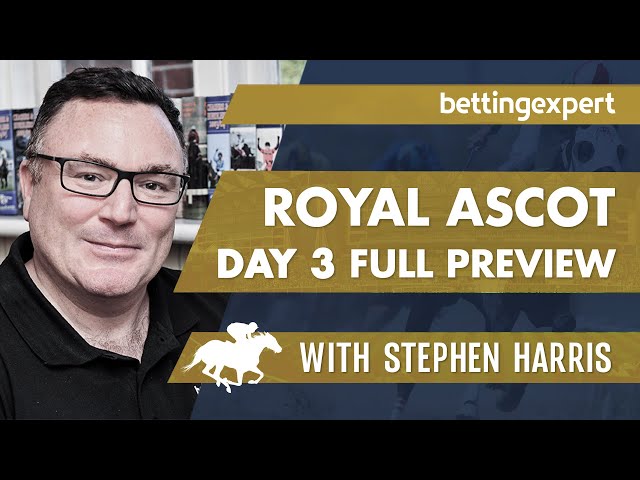 ---
See The Latest Royal Ascot Offers
---
Golden Gates Handicap 2020
Race 1, Thursday, June 18th, 01:15pm
Thursday at Royal Ascot begins with a brand new race for 2020 only, with the Golden Gates handicap providing an opportunity for three year olds only over one mile and two furlongs. This will be an extremely trappy race for punters to solve, with a 24 runner field of completely unexposed runners sure to line up.
Race fitness seems sure to be a factor, with most coming straight into the race without the benefit of an initial run (with racing only taking place since June 1st in the UK and June 8th in Ireland). The late betting market is sure to be a terrific guide to the confidence behind the individual runners, with plenty stepping up in trip and likely to have been campaigned as juveniles with handicaps in mind. The name for the race is marking the ceremonial entrance point for the Royal procession at the end of the straight mile.
Read complete Golden Gates Handicap preview here
---
The Wolferston Stakes 2020
Race 2, Thursday, June 18th, 01:50pm
One of the newest races of the week, first inaugurated in 2002, and a popular one for horses who are just below Group class and often hard to place. This is a listed contest open to four-year-olds and upwards, run over one mile one furlong and 212 yards, with prize money in 2019 that just topped £100,000.
Runners are scheduled to carry 9st 3lb with a 5lb allowance for fillies, while the new penalty structure from 2018 means a previous listed winner carries 3lb extra, while a Group 3 winner has 5lb extra to carry. This can be a complicated puzzle to solve for punters, and there have been more than a few shocks in recent years, with Tim Easterby's Snoano at 25/1 in 2017 still fresh in the memory.
Read complete Wolferston Stakes preview here
---
The Jersey Stakes 2020
Race 3, Thursday, June 18th, 02:25pm
A Group 3 run over seven furlongs confined to three year olds, with over £90,000 in prize money (over £51,000 to the winner). Runners all carry 9 stone 1lb (with a 3lb allowance for fillies and penalties of 5lb for Group 1 and Group 2 winners/3lb penalty for Group 3 winners).
Sir Michael Stoute has been the trainer to follow in recent years, with a remarkable six wins in the race (Expert Eye in 2018 his latest success). In 2019 there was a major shock as Richard Fahey's northern raider Space Traveller landed the spoils in silence at 25/1, just lasting home by a head from the desperately unlucky 5/2f Space Blues (run repeatedly checked and finished strongly).
Read complete Jersey Stakes preview here
---
The Chesham Stakes 2020
Race 4, Thursday, June 18th, 03:00pm
This race is run over the straight seven furlong trip and over £90,000 in prize money up for grabs. Runners must be sired by a winner at trips in excess of 1m2f to qualify, and all are allotted to carry 9 stone 3lb (with a fillies allowance of 3lb, and penalties of 5lb for Group winners/3lb for Listed winners).
In 2019 the day was lit up by the superb performance of the top class Pinatubo (quickening clear hard held from the heavily backed 5/4f Lope Y Fernandez). He was extending an unbeaten run there under James Doyle, and continued in that vein throughout the entire turf season, finishing up with win number seven in the Group 1 Dewhurst Stakes at Newmarket in October. His return in 2020 is eagerly anticipated as he steps up in trip (had been installed as one of the favourites for the 2000 Guineas until that meeting cancelled with the global pandemic upsetting the fixture list).
Read complete Chesham Stakes preview here
---
The Gold Cup Stakes 2020
Race 5, Thursday, June 18th, 03:35pm
This Group 1 is one of the best races of the entire five days at Royal Ascot. Run over the marathon trip of two miles three furlongs and 210 yards, it attracts the best stayers from around the world and has thrown up some memorable finishes over the years. Open to four year olds and upwards, the conditions of the race are that 4-y-o's carry 9st 1lb, 5-y-o+ carry 9st 2lb and there is a 3lb allowance for fillies and mares (10lb for southern hemisphere 4–y-o's).
With prize money of £500,000 (over £280,000 to the winner) the competition is always fierce, and there have been some prolific winners including the legendary Yeats (won the race a remarkable four times between 2006 and 2009). In recent times Stradivarius has cemented himself as one of the stars of the turf by winning here in 2018 and 2019, showing a smart turn of foot under Frankie Dettori and landing the punters cash in style. He seems sure to be immaculately prepared by John Gosden for a hat-trick attempt in 2020.
Read complete Gold Cup Stakes preview here
---
The Britannia Stakes 2020
Race 6, Thursday, June 18th, 04:10pm
A cracking top class handicap run over the straight mile and confined to three year old colts and geldings only. Prize money tops £120,000 (£74,700 to the winner) and there is always a maximum field of thirty runners and a wide open betting heat (that provides a welcome contrast on the day to the Group race action).
In 2019 Biometric gave the bookmakers a welcome result at 28/1 for Ralph Beckett, reeling in the heavily backed Turgenev (with Dettori on a five-timer), and this has traditionally proved a very difficult puzzle for punters to solve.
Read complete Britannia Stakes preview here
---
The Sandringham Stakes 2020
Race 7, Thursday, June 18th, 04:40pm
A red hot and competitive handicap confined to 3-y-o fillies only, with £90,000 in prize money up for grabs and a maximum field assured racing over the straight mile. The race was called the Fern Hill Rated stakes until 2001 and run as a listed handicap until 2018 (until the rules changed meaning handicaps could not be run with listed or group status) .
2019 produced a 33/1 shock as Thanks Be landed the spoils under Hayley Turner, notching a first winner at the meeting for her pilot (and first female win at Royal Ascot for an incredible 32 years). The betting is usually wide open and punters have found it very hard to find the winner, with a succession of big priced surprises in recent history.
Read complete Sandringham Stakes preview here
---
Royal Ascot 2020 Day 3 Races
Thursday at Royal Ascot is traditionally "Ladies Day", with high fashion and a huge crowd in attendance, but 2020 behind closed doors is sure to have a very different feel to things. However, the racing on the track remains top class, with the Group 1 Gold Cup very much the highlight of the entire five days for traditionalists.
This race has established some household names over the years, with Yeats winning the 2m4f prize a remarkable four times in a row between 2006-2009. Estimate provided a welcome winner for the Queen and Sir Michael Stoute in 2013, while the top class stayer Stradivarius has shown a terrific turn of foot to land the prize in 2018 and 2019. He seems sure to be back to try and land the hat-trick in 2020, and is currently installed as a short-priced favourite by the major bookmakers.
The rest of the card is full of quality, and last year had the bookmaking industry trembling after Frankie Dettori won the first four races…bringing back painful memories of him going through the card 23 years earlier at Royal Ascot. Bookmakers around the country faced bankruptcy that day in 1996, as the popular young Italian rider won all seven races at the cumulative morning odds of 235,834/1.
Many millionaires were made that day for a few pounds staked, and Dettori has had a huge following at Ascot ever since (a course he does ride better than any other). For handicap fans, the Britannia Stakes over a mile provides a really difficult puzzle to solve, run at the Royal Hunt Cup trip and always attracting a maximum field of high class performers at this level. Last year Ralph Beckett's Biometric saved the bookmaking industry a huge payout by winning at 28/1 (touching off the five-timer chasing Frankie Dettori on Turgenev)..
---