Six Nations Predictions & Betting Tips
Today's Six Nations Betting Tips
The Six Nations championship is one of the most important rugby events of the year. As the name of the competition suggests, six countries' national rugby teams battle it out for the championship trophy. The championship runs from the first week of February through the middle of March, with each team playing one game against each of the other 5 nations.
Since the year 2000 the competing nations have been; England, Wales, France, Italy, Scotland and Ireland. Historically, most of these nations have been in the top 10 of the World Rugby Rankings, leading to some very exciting games and some even more exciting rugby Six Nations predictions – right here at bettingexpert.
The competition started out in 1883, then named the Home Nations Championship. In 1910 with the addition of France the tournament's name was changed to the Five Nations Championship. Then Italy joined in 2000, leading to the championship as we know it today, the Six Nations Championship. With the competition being as historic as it is, many different trophies and awards can be won throughout. In addition to the championship trophy, a team can win the Grand Slam if they are victorious in each of their 5 games.
If one of the original nations, England, Wales, Scotland or Ireland, wins against each of the other 3 nations, they are awarded with the Triple Crown. Lastly, you have the Wooden Spoon, awarded to the team that finishes in last place. On top of all of these awards, many of the games between individual nations have rivalry trophies at stake. With as many historic games and trophies as this competition has, the league allows for some very interesting outright rugby Six Nations predictions, and individual matchup predictions.
During the span of the competition bettingexpert will be filled with expert Six Nations predictions. The bettingexpert community truly are experts when it comes to betting, and they will spend hours upon hours pouring over the Six Nations stats, to post their expert predictions to the site.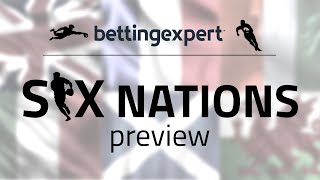 How Can I Find Today's Six Nations Betting Tips?
At bettingexpert, you will never have a problem finding todays Six Nations predictions. You can easily find the top three tipped games at the top of this page, with a number showing the exact number of tips submitted. To view the bettingexpert communities predictions for each of these games, simply click on the match and you will be presented with the full list of betting tips submitted for that specific game.
Of course the three most tipped on games are not always the ones that you are interested in. The Load More button will show you more games in a similar fashion as the ones presented at the top of the page. If you wish to view future games, live scores and results you can press the View Full Schedule Button.
Each tip submitted by a user at bettingexpert has to be backed up by actual knowledge. Therefore you can view exactly what went into any of the expert predictions on the site simply by clicking on the tip. A description will then appear, describing exactly what the tipster saw when submitting the tip. If you wish to dive even deeper, you can also access the specific tipsters profile to see all of the statistics surrounding their past betting tips.
Sign up now with bettingexpert to get the full array of features. Follow your favorite tipsters and get notified instantly when they post a new tip, or try to become an expert tipster yourself, and start posting your Six Nations predictions today.
What exactly do our Six Nations rugby betting tips entail? Every one of our predictions comes with an analysis and explanation of the tip itself,as well as the following details.
Date of Fixture
Time of Fixture
Teams Playing
Tipster Rating
Bookmaker Used
Odds at the time the tip was posted
Current Odds
Bet Type
Market
Prediction
Explanation and reasons
Free Six Nations Betting Tips
Signing up with bettingexpert is and always will be completely free of charge. Because of this free model we believe that we have the best betting community on the planet. The reason we can keep it free is because, unlike many other sites, our tips do not come from self proclaimed experts. Our tipsters show that they are experts by competing in our monthly competitions. So instead of you having to pay them, they get a chance to win one of our cash prizes.
Because of these cash prizes our users are highly motivated to consistently post todays Six Nations predictions. To be at the top you have to tip often, and you have to tip well. If you spend too long honed in on one game, you might not make enough predictions to get enough of a profit.
The same goes for if you do not look at the game closely enough and just submit a ton of predictions, you might get a negative yield. To be atop our leaderboards you have to be fast and consistent, ensuring that there will always be expert level predictions right here at bettingexpert.
You can either pick a user out from the leaderboards or simply click on a game and see the top tips – but bettingexpert will never leave you in the dark. Many sites charge for tips as good as ours, not only that, they barely provide you with any background information on the tip or the tipster. Do they have a good record in the past? Why are they even qualified to be charging for their tips?
At bettingexpert, not only are the tips free, you can see everything that has gone into each tip, and the full tipping history of the tipster. By clicking on a tip you can see a description of why the tipster believes in that outcome; and going into the tipster profile you can see all the necessary information to discern between a good tipster and a bad tipster.
By signing up for bettingexpert you can become part of the bettingexpert community and start utilizing our users Six Nations predictions today. All of this will always be 100% free because of our monthly competitions, and you are provided with everything you need to choose which tips you want to trust.
SIGN UP AND BECOME A SIX NATIONS BETTING TIPSTER
How To Sign Up With bettingexpert
When you become part of the bettingexpert community you instantly receive access to our full array of features. You will be able to follow your favorite tipsters to receive notifications whenever they post a new tip; and you will also have access to all of the different tips posted to the site, whether it is checking out today's Six Nations predictions or another of the many sports available.
Being part of the bettingexpert community also means that you can try your hand at tipping. If you feel like you have a good feel for predicting the outcome of games, start making your own predictions. Use the Six Nations stats and figure out your own predictions, perhaps you could be the next person to sit atop our competition leaderboards.
Sign up now 100% free of charge to start tipping, or start utilizing the bettingexpert communities tips to the fullest.
Post your Six Nations tip
Becoming Part Of The bettingexpert Community
Become part of the bettingexpert community today and get access to the many perks that come with it;
Get the best promotional offers for your favorite sporting events
Get instant notifications when your favorite tipsters post their betting predictions
Get weekly betting tips from the bettingexpert staff and users
Start posting your own tips and get a chance at one of our many cash prizes!
Become part of the best sports betting community on the plant
All of these features come free of charge when you sign up with bettingexpert.
Expert Six Nations Betting Tips
bettingexpert is the best place to get your Six Nations predictions today. No other site can nor will provide you with the same expert tips that our tipsters post each and every day. Betting can be extremely hard. With many different variables, stats and buzz to take into consideration when making a prediction it can take years to hone the craft of sports betting.
While bettingexpert gives you the opportunity to become an expert tipster yourself, to look at the Six Nations stats and make your own predictions yourself, it is by no means necessary. If you simply wish to bet, and want some help to increase your yield, we have you covered right here at bettingexpert with our expert Six Nations predictions.
The expert tipsters here at bettingexpert have gone through all the trial and error to figure out a method of getting a consistently positive yield. They have gone through all the ups and downs, spent hours upon hours pouring over stats and news articles, but in the end our best tipsters always come out on top. In turn this leaves you with not having to do the work, it will always be an option to submit your own tips and become part of the competition, but you certainly do not have to.
The reason that all of these expert tipsters are attracted to bettingexpert, and why many tipsters starting out at bettingexpert become experts themselves, is that we have monthly and yearly competitions to help motivate our tipsters. If we did not offer anything in return for their tips, not a lot of great tipsters would be interested in our website.
But by offering cash prizes on a frequent basis we give all of our users a risk-free opportunity to win some cash, they simply have to be the best at making predictions. Whether that's making basketball predictions, Rugby Six Nations predictions, or predictions for another sport, our competitions allow for you to tip in whichever sport you prefer – as long as you make a profit you have a chance to win.
Because our competitions act as such a strong motivator for our tipsters, we believe that our tipsters become better as a result of that. As with any user on our site, you can access any tipsters profile to see exactly how they have fared in the past, what bets they have coming up, how they have been doing recently, how much of a profit they've made; all of it and more is available simply by clicking on their profile.
You can go into the leaderboards for our competitions to find the best of the best at bettingexpert. When you find a tipster that you believe in, and want to continue getting expert tips from, you can simply follow them to get notified whenever they post betting tips- if you have a bettingexpert account of course.
Signing up with bettingexpert will always be 100% free and give you access to our full array of tipsters and features; so what are you waiting for? Sign up now and start using our expert tips to the fullest.
Six Nations Favourites
Since the tournament expanded to six nations in 2000, England has been the most successful team winning a total of six titles. France and Wales have both won the title five times while Ireland have claimed four championships. Both Scotland and Italy have yet to win a Six Nations title.
| | | |
| --- | --- | --- |
| SEASON | WINNER | RUNNER UP |
| 2019 | Wales | England |
| 2018 | Ireland | Wales |
| 2017 | England | Ireland |
| 2016 | England | Wales |
| 2015 | Ireland | England |
| 2014 | Ireland | England |
| 2013 | Wales | England |
| 2012 | Wales | England |
| 2011 | England | France |
| 2010 | France | Ireland |
Bet On Six Nations
When it comes to rugby, the Six Nations tournament is truly one of the best opportunities for betting. With several of the top nations within rugby competing, it is a chance to see the best of the best go head to head in a tournament while representing their country. So whether you are a tipster with years of experience, or someone simply trying to have more fun while watching your favorite sport, the tournament presents a prime opportunity to start making Six Nations predictions today.
Rugby is one of the most storied sports still around today and many nations have it as one of their most popular sports. With popularity comes also a great presence of betting opportunities, and at bettingexpert, heaps of betting predictions. As previously mentioned we believe we have the best betting predictions available anywhere, so you can always choose to simply use today's Six Nations predictions; but if you want to truly join in on the fun, you can start posting tips on your own.
When you are a tipster at bettingexpert you have the opportunity to compete against the best of the best within the world of sports betting to win cash prizes. We have weekly, monthly and yearly competitions with cash prizes on the line for each of them. Competing will always be free of charge, and because of that we have a huge influx of tipsters vying for the prizes, but when it all comes down to it, it simply takes making a profit on a consistent basis to get a chance at a prize.
Getting started in the world of sports betting can be a daunting task, but at bettingexpert we provide you with all the tools necessary to be successful early on in your betting career. bettingexpert Academy is the number one resource available online for free to teach you how to get the most out of your betting. With individual guides in specific sports, guides on how to analyze stats and data, sports betting philosophy, and many other aspects of sports betting described in detail, it will give you a great insight into how to get started.
When you start making your predictions knowing everything that surrounds the game and how to analyze it will be key in becoming successful. The bettingexpert Academy guides will teach you how to read Six Nations stats, and more importantly; what conclusions to draw from the stats. You have to be able to look at the teams recent success and their head to head matchups, both between different teams but perhaps also between individual players.
This will give you an insight into the outcome that is statistically more likely, but of course outside factors can also come into play. Certain fanbases can provide for an atmosphere that is favorable for the home team, or disfavorable for the away team. Maybe there is some buzz surrounding the team that could impact the performance of the team as a whole, or perhaps impact an individual player. Everything that is surrounding the game has to be taken into consideration if you want to be a successful tipster.
It can take a lot of trial and error to become an expert, but if you have a knack for predicting the outcome of games, you could be the next person to win one of our cash prizes. By signing up with bettingexpert you can start posting your own tips and take part in our competitions, or simply use all of the other expert Six Nations predictions – all free of charge.
Bookmakers For Betting On Six Nations
At bettingexpert our site will be flush with rugby Six Nations predictions during the span of the tournament. Seeing as Six Nations is an international tournament with several big sports betting nations involved, many of the big bookmakers are sure to offer great opportunities for your sports betting endeavors. Our bookmaker reviews will give you all the information necessary to choose the right bookmaker for you. Here are a few of the things you should look for when choosing bookmaker;
A wide array of in-play betting options
Many different sports available to bet on
Many different betting markets available to bet on
Consistently good odds compared to its competitors
More expert rugby betting tips
At bettingexpert we offer a wide range of different sports to give predictions on, and we believe that we have the best tipsters on the web. So whether it is our expert Six Nations predictions or this week's basketball predictions – you can count on bettingexpert. Head to our main tips page and get a glimpse at the full array of tips that can aid you in your betting today!
Rugby Union Betting Tips
English Premiership Betting Tips
French Top 14 Betting Tips
Welsh WRU Betting Tips
Super Rugby Betting Tips
Sorry, there are no tips available on Rugby Union.
Latest Six Nations Championship tips
France-Scotland

Scotland +10.50 in ordinary time (AH)

mguille

France-Scotland

France -13.50 in ordinary time (AH)

younessraja

France-Scotland

Under 26 points in 1st half

Iznarbaby

France-Scotland

Over 50.5 points in ordinary time

mich81
Latest Six Nations Championship results
dimanche, 14 février 2021