How To Bet On Greyhound Racing
Here we have an exclusive 10 point plan for punters looking to get involved in betting on the greyhounds (based on my experience of 15 years as an on­course bookmaker at the dogs, and around 25 years as a punter)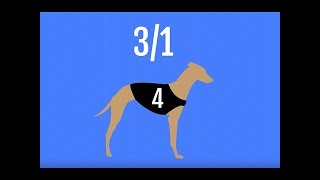 #1 -­ Check conditions, look out for any bias especially during wet weather
Track conditions can play a huge part in greyhound racing, and it is often worth watching the first two or three races on a card to check for any bias. During wet weather it can often favour wide runners, with the contours of all tracks meaning the inside rail can be a lot more testing.
It can also be a big advantage to be a frontrunner when things get very wet, with stronger runners often inconvenienced in the kickback and trouble in­running magnified. Conversely, in the winter when conditions in the evening are often freezing and below, many tracks get very compacted and in the inside runners can dominate for many weeks.
#2 – Always look for well drawn dogs over the faster "unlucky losers"
A lot of dogs start very short prices after suffering an unlucky defeat, making headway when squeezed out when showing middle pace into the third bend for example. The obvious pacey dogs are often under­priced next time as the public have seen what happened and bookmakers run for cover, and it is far better in general to look for well drawn runners.
For example a dog in trap 1 where trap 2 moves wide on the run to the first bend, or a Trap 6 runner with a railer in Trap 5. Most races are won by the dog that gets the cleanest run and, in graded racing especially, the first 100 yards out of the traps are extremely significant to the outcome of the race.
#3 -­ Favour a young pup with scope to improve rather the old timers with 100 races under their belt
Whenever I take someone dog racing for the first time and they ask for hints about reading the card or tips, the best advice I can give them is to back the younger, most inexperienced runners. Any greyhound that has not had 20 runs or so will still be improving, learning how to trap better and run the bends more smoothly.
These young guns tend to have more pace and verve than the more jaded performers, many of whom are well established and known to the grader. It is amazing how quickly the young brigade can charge up through the grades, and latching onto a promising one at the start of his or her career can be particularly profitable.
#4 -­ Price up every race to 100% and look for ricks in the early prices
Once you have a good understanding of the form at a particular track it is essential to price up the card accurately (should be done to around 100pc to get the "right" prices established in your own mind). This has the great effect of making it very hard to take short prices, and makes you realise that it is very rare in graded racing for anything to be 6/4 or less.
There are simply too many imponderables and hazards for the true chance of winning to be that high, and playing on exchanges against under­priced "public" dogs is particularly profitable over time. A very good judge at Swindon falls into this trap regularly, not pricing the card properly and just fancying dogs that he has seen run well on the DVD last time. The trackside bookmakers often joke that he will have "I make this 5/4 (2.25)" on his gravestone, as he lumps his wages onto another short priced loser.
#5 -­ Try and visualise how a race will be run
Race­reading is a skill that requires experience and plenty of hours of watching races and making notes. Certain tracks such as Hove and Monmore are true gallops, and working out what happens when in a race is critical. At other venues such as Crayford or Romford, establishing what will lead is usually the key to finding the winner with a large percentage of races often decided in the first 20 metres after the traps, and trouble behind usually ensuring nothing much can get into the race from behind.
At Hove it is often the case that races change dramatically off the last bend, with the early paced dogs cancelling each other out and the stayers with no early coming through. Try and find races where there are several frontrunners and perhaps an "ungenuine raver" who does not want to go on into the lead (and hampers those with pace as they tire). These races can be slow run and messy up front, paving the way for a stamina laden type to come through and assert late.
By gradually understanding the dogs and their preferred run styles you can become a profitable punter, tied in with an understanding of prices and where the value lies. Clearly this is easier in theory rather than the complicated reality, where a missed break or a stumble can completely change the way you imagined a race being run, but in the longer term luck (and random ill fortune) levels itself out and good judgement does get vindicated.
#6 – Specialise at one or two tracks and become better than the market at them
Some punters try and play everywhere and into everything, becoming action junkies as they look for a bet every two minutes. Dog racing can be dangerous in this regard, with numerous meetings on every day and the advent of live coverage meaning a "quick fix" is never more than a moment away. It is better to specialise in one or two tracks and become an expert at them.
Keeping up with four or five meetings a week is a full time job, and staying on top of the form is vital if you are to become better than the market at your chosen track. Most stadiums now have an excellent website where you can download and watch over and over each race, so there is no excuse not to become a well informed and astute judge.
#7 -­ Avoid short prices and search for value away from the obvious
By pricing up your market to 100% (i.e the true probability of each dog winning without market commission taken into consideration), you will soon realise how hard it is to genuinely make something value to back at a short price. Unless the race is a mismatch (and they are very rare on the bags) then the chances are something is under­priced if it is less than 6/4 (2.50) is minimal. It might not be something that is value to lay in itself, but very often the better value may lie in backing one or two others against a skinny market leader.
Try and find reasons to be against the obvious, perhaps a dog inside it that you saw swerve wide at the traps two runs back that could be an immediate hazard, or an impressive winner that was in a race with no early and plot draw last time (and hence able to dominate and stretch clear unimpeded on the hare), that might not get such a soft lead this time….there can be many reasons why things will not pan out as smoothly as the uneducated backers believe.
At the same time, in this exchange driven age, it is important to respect all money in the markets. All the mugs have been eaten by the sharks and returned to the workplace with their tales between their legs. There is very little "loose" uniformed cash around, with only the fittest surviving and still playing in size on a regular basis. As your knowledge improves it is important not to get carried away and play too strongly….understand why there is money for certain dogs, just try to find reasons why the price may be too short (and look elsewhere for value).
#8 -­ Look for the run style that will be suited to certain races
Some races are put together by the racing manager who is expert at making life difficult for punters, with the fast improving pacey pup often boxed up surrounded by early pace. Or the obvious class dropping "form pick" will have a railer boxed up outside him as a possible hazard in the early stages. These days with so much racing and the offices often at full stretch to just put on a card at all (and a shortage of dogs commonplace), this skill has waned, and bags racing especially can be rather repetitive with the same dogs slightly shuffled and running against each other twice a week.
However, there are still edges to be found away from the obvious, and identifying the likely way a race will pan out is critical. For example the presence of three early paced short­runners in one race is very likely to lead to spoiling on the pace and the race is likely to change complexion late…look for the dog who has been tried over six bend trips in these sort of contests (where a late surge could prove decisive and the video watchers may have overlooked his chance on recent efforts).
#9 -­ Understand how trainers operate, some are better than others with certain types of dog
Some trainers are better than others…and some excel with young pups or stayers….while plenty these days are just basically drivers who drive the dogs from the kennels to the track with not much happening in between. As you learn the form at a track you will come to learn the trends and traits of certain trainers and factor that into your prices.
Having sparred with Terry Dartnall for a decade at Reading dogs (one of the best trainers with pups and nurturing improvement steadily rather than dramatically), it is important to understand the significance of cash for some runners and not others. Many trainers are now operating these days on very unfavourable terms financially and need to bet to pay the bills….although this is not often the case on the Bags (and gets frowned or even stamped upon when it gets too obvious).
Watch out for money for dogs that are unexposed, or returning from lameness or seasonal break. Those connected to the dog will know when he or she is peaking or coming right…and strong cash can be more of a guide than recent form on the track.
#10 -­ Regulate your staking and avoid punting on every race or chasing your losses
With so much dog racing there is plenty of choice for the astute punter…and a 14 race card will often throw up several betting opportunities if the prices are right. There is no need to play heavily in every race…and getting the stakes measured and right is a key part of becoming a winning punter at the dogs. Avoid betting more just because the price is shortest…it simply is not profitable in the long term to keep lumping on at minimal prices….try and play the strongest when the disparity between the true price of a dog (on your carefully crafted 100% tissue) is biggest.
For example, you make a promising pup 2/1 (3.0) favourite because it has a great draw inside a tight railer in trap 3, showed pace off a slow break last time on its third career start, and has a great chance to lead on the hare for the first time….yet the Betfair judges have missed it and it is available at 4/1 (5.0)….then is the time to play to maximum stakes. Finding a Nap and unloading at 6/4 (2.50) does not may the bills in the long term….plenty of excellent judges have gone skint that way.
---
Read more bettingexpert Horse Racing guides