Guide To Horse Racing Terminology
Horse racing betting terms are widely quoted by the media, but for the beginner trying to get to
grips with racing it can all be bewildering and hard to understand. Here we take a look at 40 frequently asked questions for those starting to bet on horse racing.
#1 – What is each way betting?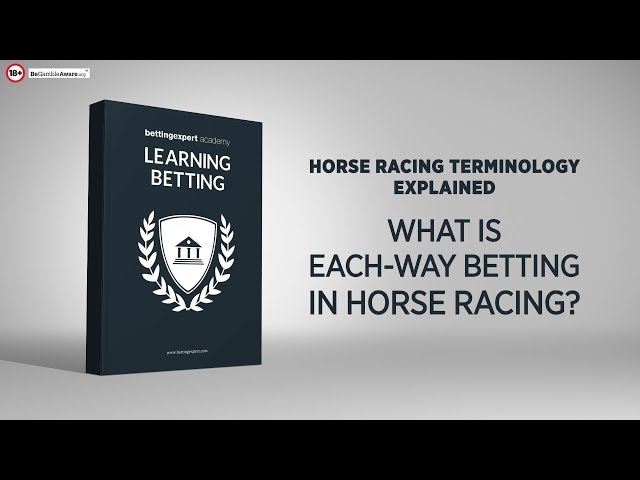 Each way betting is two bets, backing a horse to win and backing a horse to place. An each-way bet is available in all races with 5 or more runners. Each-way bets are popular in competitive handicaps and can offer terrific value at time when the odds are in the punters favour. Here is a useful table explaining in full the each-way terms offered across the board by all bookmakers.
Non-Handicap Races
2 – 4 Runners: Win Only (1st place only, no each way betting available)
5 – 7 Runners: A 1/4 the odds over 2 places (1st and 2nd)
8 or more Runners: A 1/5th the odds over 3 places (1st, 2nd and 3rd)
Handicap Races
2 – 4 Runners: Win Only (1st place only, no each way betting)
5 – 7 Runners: A 1/4 the odds over 2 places (1st and 2nd)
8 – 11 Runners: A 1/5th the odds over 3 places (1st, 2nd and 3rd)
12 – 15 Runners: A 1/4 the odds over 3 places (1st, 2nd and 3rd)
16 or more Runners: A 1/4 the odds over 4 places (1st, 2nd, 3rd and 4th)
Some bookmakers offer enhanced 5th or even 6th places on certain big races such as the Grand National, and these offers are well worth taking advantage of.
#2 – What is a Trifecta?
This is a tote bet where the backer has to predict the 1st,2nd and 3rd home in the correct order. These can pay some big dividends, particularly if the prices are big about those filling the frame, and is a popular bet among small staking players looking for a big win (particularly on a Saturday or at a Festival, when the tote pools are bigger and the money tends to focus around the public horses at the front of the market).
#3 – What is an Exacta?
This is a tote bet where the backer has to predict the 1st and 2nd home in the correct order. These can pay more than the conventional bookmakers straight forecast in some instances, especially in strong pools at the weekends on the major races where most of the cash in the pool will be concentrated around certain horses who are well found by the market (or ridden by a top name jockey). There can be some good dividends returned if you look away from the obvious when turnover is highest.
#4 – How does spread betting work in racing?
Spread betting is available on horse racing and offers a range of markets either across the entire meeting on the day, or match bets and individual indices on every race. A punter can buy or sell the performance of certain horses in much the same way as he can buy and sell shares, taking a view at the price quoted as to whether they will preform well or badly. One of the most popular spread markets is on the Favourites through the card, with 25ps for a win, 10pts for a place, 0pts unplaced….and punters are able to take a view about the prospects on the day for all the market leaders. However, margins are always high on the spread markets, and the arrival of the betting exchanges has meant their are simpler ways of backing or laying your opinion.
#5 – What does betting the field mean?
This can be done by laying one horse on Betfair...thus you are betting the rest of the field to beat it. Popular with punter who thinks a short priced favourite is far too short, but do not have a clear opinion of which horse individually to back to beat him.
#6 – What is a forecast in horse racing?
This is betting two horses to finish 1st and 2nd in the correct order with a bookmaker, who pays a calculated dividend based on the starting prices of the first two home (known as a CSF or computer straight forecast).
#7 – What is a Daily Nap?
The best bet on a day put forward by a racing correspondent. The bettingexpert Daily Nap has a terrific record over the past five years, with a strike rate over 37% and a return on investment of 15% at the advertised prices. Many punters like to follow the Daily Nap of someone they trust, especially if they do not have the time to put in the work or follow racing closely themselves.
#8 – What is an accumulator?
This is a popular bet where the punter puts together two or more selections in an accumulator. All his selections have to win for the bet to be successful and the returns are calculated my multiplying up the prices of all the horses. Bookmakers are keen to lay these sort of bets, as over time the margins are very much in their favour.
#9 – What is a lucky 15?
A popular bet in the shops on horse racing, with 4 selections making 15 bets (4 singles, 6 doubles, 4 trebles and 1 accumulator). Some companies offer double or treble the odds for just one winner which makes the bet more attractive, or add on a substantial bonus if all selections win.
#10 – What is the SP?
This is the Starting Price which is the price returned at the off ( from a representative sample of on course bookmakers at the track where the horse is running).An SP is returned about every runner in every race, and the majority of bets struck off course are settled at SP so the process is vital for bookmakers and punters alike. An independent body ensures the SP returns are fair and open, not manipulated by interested parties.
#11 – What does ante post betting mean?
Bookmakers offer up prices for events months in the future, and this is known as ante-post betting (before the runners head to post for the race itself). The main big races such as the Grand National or the Derby are priced up twelve months in advance, while all the races at Cheltenham or Royal Ascot for example are available months beforehand. Backers lose their cash if there ante-post bet is a non-runner on the day, and clearly it is a high risk strategy for punters. However, it can be possible to get some terrific value if you spot a future star at a formative stage in his career, with big prices such as 33/1 available months ahead of a targeted race.
#12 – What is a banker?
Often used to refer to the shortest price runner on the card, and referring to the horses status as likely to be in every punters accumulator bets on the day. They are banking on it winning for the bet to still be in with a chance of winning, and for bookmakers they are desperate to get these public horses beaten. For some this can also be called a Nap, as in it is there strongest fancy of the day.
#13 – What is a drifter?
A drifter is a horse who proves easy to back and his price increases alarmingly. In the exchange driven age this can be for numerous reasons, but it is not usually a good sign about the prospects for the horse. He may have played up in the paddock or moved poorly to post, or rain has come and eased the ground against him. Market unease usually reflects negative sentiment that may not be widely known, and the last few minutes of Betfair trading is often very revealing
#14 – What does "bar" mean?
Not the place to drown your sorrows after a last flight faller, but used in racing parlance to refer to the "other runners in the betting" in a betting forecast on the daily form guide/racecard. So for example:
Faugheen 1/2f
The New One 7/2
25/1 bar (as in the others are 25/1 and bigger in the betting).
Not used much these days with prices available the night before about every runner on the exchanges and with lots of conventional bookmakers.
#15 – What is tote betting?
Pool betting where the prices are decided by supply and demand of weight of public money (less around 25% deduction kept by the tote). Usually poor value especially around the front of the market (it is a relatively high margin product designed for the casual race goer), but can offer some value in Jackpot or Placepot betting (where pools can be huge at big meetings and the bulk of the cash in the pool not sharp).
#16 – What is a non runner?
This is a horse withdrawn from his intended race on the day. There can be a variety of reasons for this including travel problems, an illness or injury to the horse, or a change of ground that the trainer thinks is unsuitable for his charge.
#17 – What is a racing form guide or racecard?
A point of reference for all punters when trying to decide which horse to back. A racing form guide is a mine of information, showing each runners last few runs, with finishing position, the going, distance beaten, the trip, starting price etc etc all displayed. Often with guides such as Timeform or the Racing Post website, this will come with a comment about the horses prospects for that day. For example:
"badly out of form and likely to find the ground too testing this afternoon" or "impressive winner last time out and big runner despite a rise in the weights".
The astute punter will take this on board, but will always try and form his own views before being influenced too much by others.
#18 – What is a Rule 4?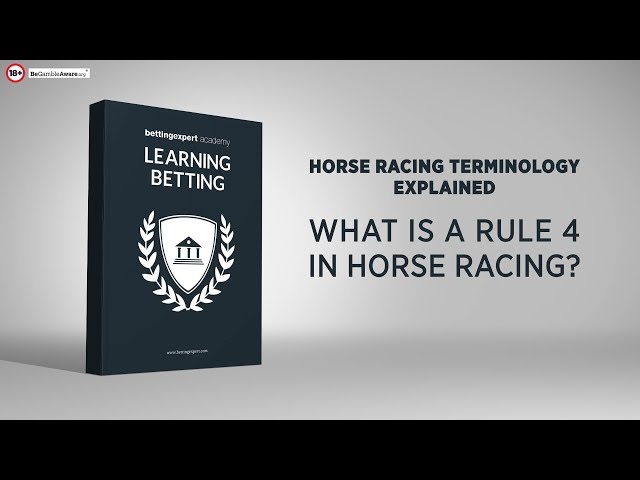 If a horse is withdrawn at the start of a race and the market does not have a chance to be reformed, then a Rule 4 deduction will apply to the winnings collected. Here is a handy table to explain how much will be deducted (some firms do waive 5p Rule 4s):
| | |
| --- | --- |
| ODDS | DEDUCTION |
| 1/9 or shorter | 90 pence |
| 2/11 to 2/17 | 85 pence |
| 1 / 4 to 1/5 | 80 pence |
| 3/10 to 2/7 | 75 pence |
| 2/5 to 1/3 | 70 pence |
| 8/15 to 4/9 | 65 pence |
| 8/13 to 4/7 | 60 pence |
| 4/5 to 4/6 | 55 pence |
| 20/21 to 5/6 | 50 pence |
| Evens to 6/5 | 45 pence |
| 5/4 to 6/4 | 40 pence |
| 13/8 to 7/4 | 35 pence |
| 15/8 to 9/4 | 30 pence |
| 5/2 to 3/1 | 25 pence |
| 10/3 to 4/1 | 20 pence |
| 9/2 to 11/2 | 15 pence |
| 6/1 to 9/1 | 10 pence |
| 10/1 to 14/1 | 5 pence |
#19 – What is a horse racing betting system?
There are numerous horse racing systems, but most tend to work only in hindsight or if applied to already known results, and the fact remains that every horse race is a unique event. Some people like backing beaten favourites to win their next race, or following previous course and distance winners when they return to that track, while others follow a top jockey (often doubling up the stakes until they hit a winner). There are unlimited systems but most have one thing in common: the losing run wipes out any profits built up previously.
#20 – What is a handicap race? Who is a handicapper?
A handicap race is where the horses are allotted different weights to carry, with the aim that different abilities are made as equal as possible (to ensure theoretically that they all finish in a dead heat at the winning line). The best horse in the race will carry top-weight and the one with least ability will have the smallest burden to carry. Obviously all jockeys do not weigh the same, so lead is placed in the saddle to make sure the correct amount is carried each time (before every race jockeys weigh out in front of the clerk of the scales…and then weigh in afterwards to make sure the rules have been obeyed).
The handicapper is the man who decides what mark or rating a horse is capable of…and this translates to the weight he will carry in a handicap race. For example a 90 rated flat horse running in a 0-90 handicap will have to carry the maximum ten stone….with horses of a lesser rating carrying less. These marks move up and down depending on performance (good or bad), and the team of handicappers are one of the most powerful groups in horse racing. Their leniency or harshness can decide the success or failure of horses, and the position can be a contentious one (trainers are quick to criticise when they feel a horse of theirs has been given too higher mark).
#21 – What is weighing in/out?
A Clerk of the Scales makes sure each jockey has the correct allotted weight both before and after every race. Any rider who weighs in more than a few pounds "wrong" afterwards can be disqualified, so accuracy is vital. Lead weights can be added to the saddle-cloth to make sure everything is correct.
#22 – What is a furlong?
All racing distances are measured in furlongs. One furlong is equal to 201.168 metres, and the minimum trip on the flat is five furlongs (up to a maximum of 22 furlongs). There are eight furlongs in a mile, and all race distances have recently be remeasured to ensure accuracy and uniformity across all UK racecourses (with some remarkable findings).
#23 – What are blinkers?
These are a commonly used pieces of headgear for horses, used to confine/narrow their field of vision and improve focus and concentration. Often the application of blinkers can produce a vastly improved performance out of the blue, with previously lazy unenthusiastic horses suddenly galvanised to try a lot harder and give their best. Often blinkers work for a limited time, and trainers often rotate their use with other aids such as a visor, eye-shields or cheek-pieces.
#24 – What does faltered mean?
Used as a comment in the form book to describe when a horses run is not continued, often related to bad attitude, greenness or the horse being ungenuine when put under pressure by the jockey. So for example the race reader might report "smooth headway to lead 1f out, driven but faltered under pressure and faded close home". Horses that falter for pressure are not usually ones to take a short price about, only able to win on the bridle with the jockey motionless.
#25 – What is a juvenile?
Used to describe two-year-olds on the flat who are just starting out in their racing careers. Over jumps this refers to three-year-olds who begin their life over hurdles at this stage. Juveniles can improve rapidly for experience and latching onto a young progressive 2-y-o can be very profitable for punters.
#26 – How are speed figures calculated?
Speed figures are based on the times of races (compared with the standard race times over a lengthy period). There are plenty of form students who rely heavily on times as a means of form analysis, with high speed figures pinpointing exceptional performances that lead to selections in their next races. This is particularly useful on the all-weather surfaces, where the track condition rarely changes and it is easy to compare the merits of performances using time only. Looking ahead the use of sectional timing (figures clocked every furlong by every runner) is becoming an increasingly discussed topic among professionals (not currently recorded officially at every track, but growing pressure to bring the UK up to date with other countries where it is commonplace).
#27 – What is a thoroughbred?
This is the breed of horse that is eligible to run in races. The breeding industry is a multi-million pound business that runs alongside some of the biggest stables, with the best horses often going on to produce hundreds of future blue blooded offspring.
#28 – What are grades in horse racing?
Racing grades start at selling or claiming level and rise up through the various handicap ratings bands, ending up in listed and then Group class on the flat (or Graded company over jumps). Group 1 or Grade 1 races such as the Epsom Derby or the Cheltenham Gold Cup are the most valuable prizes in the entire calendar, with top class horses capable of earning millions of pounds for connections if they can compete at the highest level with success.
#29 – What is National Hunt season?
The National Hunt season involves all races run over hurdles or fences and tends to take place mainly in the winter (where ground conditions tend not to be too dangerously fast underfoot). Nowadays there is no set season (or break in the action), with racing taking place under National Hunt Rules throughout the year, but in the summer months there are less meetings and lots of blank days (with the racing generally low grade and small fields). The NH season focusses around the Cheltenham Festival over four days in March, with top class racing and Irish raiders adding great colour to the highlight of the jumping year.
#30 – What is the flat season?
The flat racing season are races run on the level on turf or all-weather surfaces (from five furlongs to twenty two furlongs). Again there is no set season, with racing all year round on fibresand or tapeta surfaces, but the turf season traditionally starts with the Lincoln meeting at Doncaster in the Spring and ends on Champions Day at Ascot in October. There is an established pattern on the flat, with horse racing fixtures flowing from the Guineas to the Derby, followed by Royal Ascot in June and Glorious Goodwood in the summer.
#31 – What is a bumper?
A race run under National Hunt Rules but with no hurdles or fences. These are over 2m or less and are for young inexperienced horses starting off on a long career over jumps. The best Championship bumpers take place at Cheltenham and Aintree, with huge fields of highly touted young horses taking each other on (and the rumour mill in full flow and hefty bets flying about).
#32 – What is a claiming race?
A race at a very low level where the weights of the runners are determined by the value attached to each runner by connections. Any horse taking part in these races can then be bought afterwards for the pre-determined value by anyone with the cash (if more than one claim is received then there is a draw to pick who gets to buy the chosen horse). Often these races are used to get out of form horses out of the yard, or to revive confidence of a jaded performers, and the betting market beforehand can reveal more than the formbook.
#33 – What is the draw?
Starting stalls are used for all flat races, and the number stall a horse gets is decided by the BHA through a random draw. The effect of the draw can be crucial, with some tracks i.e Chester (low number draw) having a massive advantage over those drawn high and wide. Keep a "draw diary" to note down any bias from meeting to meeting (it can be going related).
#34 – What is a drop in class?
This is when a horse is running in a lower grade race after competing with better horses. So for example he drops down to a Group 3 having struggled to win in Group 1 company, or he is now running in a handicap confined to horses rated between 0 and 90, having been running in listed class previously. Class droppers can be useful for the astute punter to watch out for.
#35 – What is a stewards enquiry?
This is held by the track stewards if they believe any interference has taken place that may have affected the result. If a runner has been impeded or squeezed out, then they will take a look and interview the jockeys involved. A stewards enquiry will be called as the horses cross the winning line, and bookmakers withhold payment of any winnings until the findings are announced *usually around 10 minutes later. It is unusual for placings to be reversed unless clear interference is deemed to definitely affect the result.
#36 – What is a length?
Measured by time now, this is the official margin used to report distances between the horses in finishing order. Distances under a length go from a nose, a short head, a head, a neck, half a length and three quarters of a length.
#37 – What is off the bridle?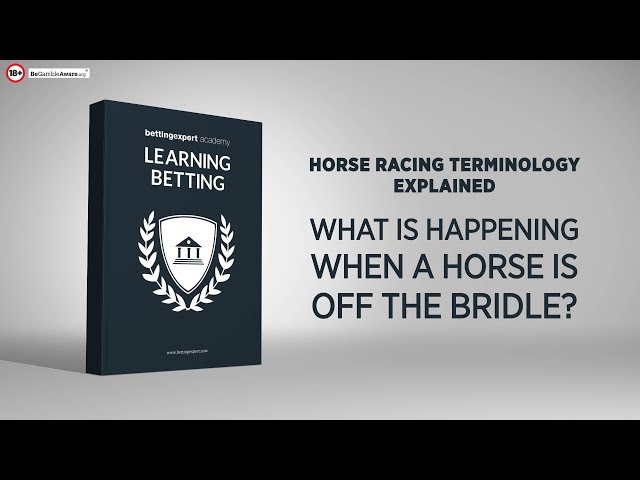 When a horse goes from cruising hard on the bridle, without the jockey having to urge him forwards, to coming "off the bridle" when he has to push and shove along to encourage the horse to keep galloping or quicken up to assert. Class horses travel longest on the bridle and are able to defeat inferior rivals without being subjected to serious pressure.
#38 – What is a penalty?
A rise in the weights for winning a race in the past week, or before the handicapper has time to revise the official handicap mark upwards. Horse can run under a 5lb or 7lb penalty (increase in the weight they have to carry), and astute trainers often look to strike while the iron is hot and before a hefty rise up the ratings stops their horse winning again (or forces them to run in much higher class).
#39 – What is a selling race?
These are the lowest grade of races, where the winner is auctioned off afterwards to the highest bidder at the track. Usually the horses in sellers have physical or mental issues and are regressive or fully exposed and find winning handicaps hard. Very often they return to their former connections as there is "no bid" afterwards, but very occasionally a bargain does crop up (the prolific chaser Ei Ei started off by winning a selling hurdle at Stratford and was bought cheaply afterwards before winning dozens of valuable handicaps).
#40 – What is virtual horse racing?
Cartoon racing that is used by bookmakers (both online and in betting shops) to create a betting event and increase turnover. The results of these races are randomised and unknown to anyone, and the prices offered are fixed and ensure a profit margin for the layer overtime.
#41 – How To Understand The SP (Starting Price)
The SP is the returned final price of horses decided independently by a starting price returner(s) who uses a small sample of the strongest bookmakers on course (agreed beforehand and unknown to those in the sample to avoid any possibility corruption). The price is used throughout the industry and if you do not request a price at the time of placing your horse racing bet, then the wager will be settled at the SP. It is a tried and trusted method, accepted across the industry, and is intended to be fair to both punter and bookmaker alike. Many off course bookmakers offer up a "best odds guaranteed" service where if you take a price, but the returned SP is bigger, then you get the SP. This is a valuable concession for all punters and one worth taking advantage of (with the best of both worlds whether the horse contracts or drifts in price close to the off).