football
| Thursday, January 13, 2022 9:20 AM
Talking Football With....Gus Poyet: Slim Chelsea Title Hopes On the Line This Weekend
PA Images / Alamy Stock Photo
With the Premier League returning in earnest this weekend, Mads Nipper Godby talks with former Chelsea and Tottenham player Gus Poyet about his former clubs' chances this weekend and through the January transfer window.
---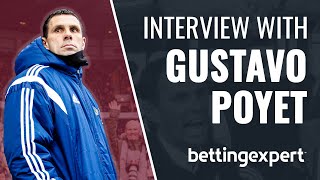 ---
Having managed Brighton in their derby game against Palace and playing for Spurs in the North London Derby can you explain what the main differences are between playing and managing in such a high-intensity game?
First of all, those two games are totally different. One one of them is very simple – it's a local rivalry of North London. The one with Brighton and Hove Albion and Crystal Palace, it took me a little bit of reading to understand why a rivalry exists from South London to the South Coast.
I think, when you play, the emotions and the adrenaline runs a little bit higher. For example, I was lucky to score an equalizer in the 92nd minute at White Hart Lane, 1-1. And two hours later when I was on the M25 driving home, I was still feeling the reaction of the fans for the goal. The shivering feeling. It's really massive that derby, and I knew not losing was very important. As a player, you can also show your passion a little more than as a coach. As a coach you sometimes have to control yourselves and contain yourself if you can.
It's one of the best games to play. Finals, semi-finals and derbies are the best to play. For sure.
As a Chelsea legend, do you believe your old side is still in the title race?
A very good question. If you would have asked me by the end of November, my answer would have been a simple 'yes'. But now it's difficult. I think the next game against Manchester City will define that.
I think Manchester City was better than Chelsea at Stamford Bridge. They controlled the game completely. Chelsea recovered from that result, but then in December, incredibly they didn't lose, but Chelsea drew too many games during that time where Manchester City was still winning.
I think this is a very important game. Probably if Chelsea lose against Manchester City, Chelsea could be out of the race. I know that in football everything can happen, but it will become really difficult. We are talking about winning all the rest of the games, like 15 in a row. It can happen like it has happened before. But it's a massive game this weekend.
I'm convinced that Chelsea should be competing for the league. When Liverpool won the Champions League, the next season they went on to do very well in the Premier league and won in, meaning that they kind of improved. And Chelsea after winning the Champions League and spending on Lukaku especially, you will expect them to be close to winning the Premier League. No doubt.
How do you feel Thomas Tuchel dealt with the Lukaku situation, would you have handled it differently?
Firstly, it's difficult from the outside. Because we don't know all the issues and don't have all the information. I read a lot about people saying 'why didn't Lukaku not go and knock on Tuchel's door and talk to him?' Maybe he did. We don't know. It's difficult to talk about without knowing.
I would like to say, I heard the whole interview in Italian. Lukaku was trying very hard, speaking in another language, Italian, he was trying very hard to be nice to the Inter Milan fans. He was trying to explain himself, about why he didn't say 'bye' when he left, he was trying to explain why he was so close to them. Kind of trying to gain back that relationship they had. And he tried so hard that he went over the top. It was all because he was trying to be very nice to them.
You need to put yourself in that situation. I think it was very clever that they (Sky Italy) held onto it until the interview until the moment they put it out. That was very clever from the Italians because it made a lot of noise.
It was a big problem for one day, and after the Liverpool game two days later, it was like it was nothing. It was because he was needed. Especially when you paid £80-90 million.
My information for the fans is, they don't imagine how many things that happen every week inside a club. You can't imagine. It's incredible, it's amazing. We managers deal with so many things. If everything came out like this, it would be a nightmare, and we would be out of a job after two weeks. But this one went a little bit too far.
Let's talk about Antonio Rudiger. He's gonna be out of contract in the summer and has clubs circling around. Should Chelsea try to keep him or cash in?
In this kind of situation, I think I'm one of the few with a strong opinion. When you sign a contract between player and club for a quantity of years, that's the deal. Let's not try in the middle, or six months before the end of the deal, or 9 months before the end of the deal to try to change the rules of a contract that we agreed on, we signed and we shook hands on.
So I was that kind of player, and it happened to me twice in Zaragoza. I had a four year contract, and I finished that contract, and then I renewed for another three years. Then I finished that contract and I came to Chelsea. Meaning that if I sign for you for four years, then I play for you for four years. To the last minute of the last day. And that's my relationship with you. I would like the club to have it the same way. The problem is that it is all about money. When money is involved we forget things we agreed on 3-4- 5 years ago. I would like for both sides, players side and clubs side, to respect the contract. Both ways. Not starting to think about other things. Because if now the club wants to cash in, and maybe sell in January, now they are thinking about the money and not the team. The team needs (Antonio) Rudiger now and until the end of the season. He's a very important player and he's on a contract. Why are you thinking about changing now? I understand the money side, and it's always the player that comes out as the bad one. If he doesn't renew, he doesn't play anymore. If he doesn't sign a new contract he'll be put with the second team.
We signed a contract, and I talk about both players and club, they should respect contact together. If they have an agreement to extend it, that's great. If they don't, just play to the last minute. You as a player, you need to show that you are "there". And Rudiger is doing that. We saw his tackle against Brighton, putting himself into a 50-50. I wouldn't be too worried about it. I think, if I was Rudiger, I would keep playing to the end of my contract. and if I was Chelsea, I would play him until the last minute of the last day.
Which team would be the right fit for Rudiger if he leaves? Should he remain in the Premier League or perhaps move to La Liga?
I think it's very personal. When I was little in South America, it was all about Real Madrid. The best team in the world was Real Madrid. Then obviously we had Barcelona with Guardiola that everybody loved, so Barcelona. Then the English teams. So i think it's very very personal, but it's easy for him, as we say in Spanish 'he's going to have plenty of girl friends', he's going to be able to choose. He's in a situation where he is going to have plenty of opportunities and he will decide with his family what's best for him.
You don't think he is more fit for one style of play?
I think he has had bad times and good times, so that will influence his decision. He had a bad time under Frank Lampard not playing and now a very good time under Tuchel, so why not stay? Maybe we'll get to the end of season, Chelsea winning the league and he maybe thinks 'I should stay here with this coach', playing with a big contract.
I like when you know the player. You know the character and the reaction. You know what he is going to give you.
Christian Pulisic – in your opinion, how does he fit in at Chelsea? He will not want to remain on the bench forever. Should Chelsea start him more or sell to another club? Any clubs which could use his talents?
Chelsea is playing in a system where the wingers cause massive problems as they play with two wide wing-backs. So the wingers like (Christian) Pulisic and (Hakim) Ziyech adapt themselves as wing-backs or they adapt themselves to play a little more in-field, like a second striker.
This means you're not playing in your best position. This is a problem for him (Pulisic) and Hudson-Odoi. For me, Pulisic and Hudson-Odoi are wingers – they can get in diagonal, they can deliver (crosses), can go past 1-v-1 and can get in the box as well."
We saw this year, play a lot as wing-backs or inside in a three. That is not for everyone. Sometime people will adapt and get the best of them anyway and some people will suffer and not give you the best.
Where do you want to see Pulisic most of the time? In the last 30 yards, 1-v-1.
Even against Brighton he was playing as a wing-back. You saw him going backwards a lot, defending and attacking both.
That happens when you have certain characteristics of players and the best system for the coach and team is different to your abilities. Then you find yourself in a strange situation.
If you ask me, I would like to see Pulisic wide in a proper 4-3-3. I don't know if it will be at Chelsea because this Chelsea system is different. I think that way he will give you the best of his ability.
There are many clubs where he could fit in well.
He is still an important player (for Chelsea) but I'm sure it depends how long he's not going to be playing in his best position. Decisions. One day you need to find out.
Or to keep improving at that. Who knows, maybe I'm talking to you in 3 months time and saying – 'oh, by the way, Pulisic is very good as a wing-back.'
What do you make of Conte's start at Spurs, and would top 4 be a successful season for Spurs?
If he finishes top 4, it will be amazing, no doubt. 100 percent sure.
I was pleased when he got the job two months ago.
Antonio is going to tell you how it is. What is white is white, what is black is black. He's not gonna go around, he's not gonna be politically correct.
He said that the team is not good enough to compete against the top teams and he wants better players. You give me better players – easier. You don't give me, I keep working. And that's the truth. People don't like it, especially nowadays where we're living in a world where we cannot say the truth.
I knew it, I said it then and I say it now – the players that are not up for it, the players who will not be there, they're gonna be out. A 100 percent, not 50-50. You'll see it in January. They're gonna be phased out. For sure.
Because that's the way he manages and has been successful everywhere. 'To change the way you manage' is not Antonio Conte. And you need Antonio Conte to get Spurs better. If you back him, I'm not saying back him with crazy money, back him in a way that you bring in players with characteristics that he wants. If you can find them, I think he will finish top four, no doubt.
Are there any players you can think of that will fit in Antonio Conte's way and system of playing?
The problem is there are too many rumours about what he wants but I'm not a 100 percent sure if that is the truth, you know.
For example, every year, every season that we talk about Spurs, we talk about a number 9 that can play with Harry Kane is not there. He doesn't exist, that player.
Everybody would like to have an amazing No. 9 but you're not going to play him, he's going to sit on the bench until Harry Kane is tired or injured.
Tottenham tried many, yeah – (Vincent) Janssen, (Roberto) Soldado – so many. At the end of the day, they leave because they want to play.
I don't really know what he (Conte) is looking for. People are saying he's looking for a right wing-back. I'm not so sure. Emerson (Royal) is there. I cannot see coming in, better than him and playing him being out. Then you'll need to sell (Matt) Doherty as well.
I think left wing-back is done, (Sergio) Reguillon is going to play most of the time. So there are positions that have been sorted.
He probably knows that there is one or two positions that he thinks he needs to improve. That only Antonio and the sporting director know. We won't know either because if you say it out and loud, what you need, those players become more expensive.
You need to be clever enough to not say too much and keep it for yourself. That's why there are so many rumours you know.
He wants a left centre-half because (Ben) Davies is a left-back. Somebody says 'he needs a right wing-back' and then somebody says 'no he wants a striker when Harry Kane is not there', 'no no he wants a central midfielder'. We don't know.
It'll have to be 2 or 3 for sure. 100 percent.
Can you give us a prediction for the 3 games featuring your old sides this weekend?
I saw Brighton myself and I really like what I'm seeing. They can play a game without being in the top, top 4. Because they have an identity and a way of playing, they can get away with points, which is very very important, somehow.
When they play well, most of the time they get points as well. It's not the type of team that needs to play in an incredible manner all the time to win football games.
Against Palace, a lot depends on the players. How many of them are available? How strong they are. They were getting better and better and then they got this Covid situation and a couple of suspensions, Zaha got sent off. They lost it and they need to get back to their comfort zone in the table.
Saying that, this is a derby. There's something going in there you know. It will be interesting to see who is prepared mentally to play a derby. You need to be strong and passionate but at the same time control your emotions and not do anything silly.
I can see Brighton winning this game.
Game of the season for Chelsea. Massive game. This game is really important for Chelsea. It will define whether they will be challenging or not. I think losing this game will be terrible for
Chelsea so I hope they go there and put on a great performance.
What a month, you know. Sometimes you think you're doing well and when you look ahead, you say 'we're playing Tottenham three times in the same month, we're playing Liverpool at home and Man City away.' It is a month that defines your season practically.
We need the best Chelsea to get something from this game.
I hope that (Thomas) Tuchel finds something different. He did something different against Tottenham in the first leg. He played a different kind of system and it worked very well. Maybe he finds a way to play against this incredible Man City team.
Very very important game for Chelsea.
I will go with Chelsea a hundred percent but that is more of a wish.
I think Arsenal is getting better but I still think they are a long way from the consistency that fans, (Mikel) Arteta and the club want.
We are very dramatic, you know, 'Arsenal were not good enough, not strong enough, too weak, too many problems'. And now, 'they're magnificent, they're gonna get in the top four'.
It's not one or the other. It's a process that Arteta is doing. He's doing it with young players.
The main player is out, he's not there anymore, the captain, (Pierre-Emerick) Aubameyang and that's a big loss and they need to find a way to replace him. That would be a key situation now in January if they can find someone.
I'm still thinking that there's a difference in both teams in the approach to the game with the mentality, as well, of the managers.
I will go with Spurs because I want Spurs to win this game but I will say that it depends on which of the two teams will impose their game. If it's gonna be Conte's strong mentality, aggressive style or the control of Arteta and Arsenal. It will depend on who's better on the day.
Where do your old clubs need to strengthen in the January transfer window?
Brighton
Brighton, I've said it many times and I know it's very difficult but we want to see this identity, this relationship between coaches and players and systems, with a top No. 9.
Nothing to go against (Neal) Maupay. Maupay, this year, is getting goals. Nothing against him but it's about really finding that player who can take you to another level.
But it's difficult because of the way that their recruitment works and how expensive those players are. That (getting a top striker) is probably the main thing everyone wants to see at Brighton.
Chelsea
Chelsea, it's not about players coming in, it's about the situation with three defenders – (Cesar) Azpilicueta, (Andreas) Christensen and (Antonio) Rudiger.
It's very unusual, a week ago, four players were finishing contracts, more or less in the same line, central defenders. And the oldest one (referring to Thiago Silva) renewed first. Normally it is the opposite – the youngest one renews.
This shows that it's not been easy.
I think it will depend on what happens with those three. If Chelsea finds, already, someone, in the long term they can sign in that position, they would probably do it.
The rest, someone who can play left wing-back if Marcos Alonso gets suspended or injured, probably. With the wing-backs out and Ben Chillwell injured for a long time, maybe they'll bring someone in there. We'll see.
The only thing I know, Marcos Alonso, at the end, 'finished playing and all that'. . I am pleased for that because I. I am pleased for that because I coached him. You know they bring full-backs, change the system, say 'aah no he cannot play in a four, he cannot play in a five.' At the end, the left back of Chelsea – Marcos Alonso. I am pleased with that decision.
Tottenham
With Spurs, it's more about what Conte wants and we don't know. I promise you, we don't.
It will be something that we think. 'oh maybe he'll bring this and that' and then a player will arrive and you will say, 'oh I was not expecting that in the position'.
There is something that he needs for his game and he will try to bring that.
---