football
| Friday, July 1, 2022 1:19 PM
(Revised at: Friday, July 1, 2022 2:15 PM)
Talking Women's Euro 2022 With....Lianne Sanderson: Spain Will Be Tough To Beat
Cal Sport Media / Alamy Stock Photo
Bettingexpert is partnering with former Lionesses forward Lianne Sanderson to help us cover the much anticipated UEFA Women's Euros, that's being played in England, starting the 6th of July.
Lianne Sanderson will be joining Bettingexpert to preview the tournament and what to expect from the Three Lionnesses throughout the tournament. She'll also help us preview all of England's group stage matches. With her expertise and experience from her 50 international caps, she'll give us valuable insight and comments that can help us deliver the best possible coverage.
In this article, Lianne Sanderson discusses how excited she is about the tournament finally getting underway and what the benefits are when hosting across the country. She also gave her picks on favourites, potential surprises and disappointments. Further, she talks about the England team and how she would have looked elsewhere for a captain.
---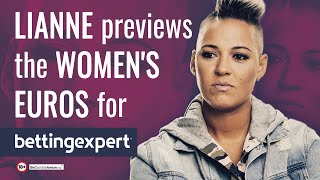 How excited are you about seeing this tournament taking place?
I'm super excited. I think the fact that it's in England, my home country, obviously, I played for England over 50 times, I'm super excited for it.
I think women's football in England this year has gone to a completely different level when it comes to marketing and radios, television, and sponsorships.
The perfect timing is now and I think that England is really, really well-equipped for it.
It can almost be a downfall playing in your home country because it's more pressure and people wanna maybe cause an upset and there are other top teams as well.
I'm mindful of saying England is going to win the tournament. I hope we do, but I think there are other strong teams like France, Spain, and Germany. You can never right these types of teams off.
It's across multiple cities with very different venues. Is that good or bad?
I think it can have its pros and cons. I think it's good that they are not all Wembley, because I think that the Northern fans can come.
I think that sometimes the men's team, played a lot at Wembley during the Euros, it makes sense it's the biggest stadium we have in the country.
I do think it gives people another chance to come and watch the games and I do think it adds a little bit of extra. You know, an incentive for people to come out and watch.
I know some people have spoken about the fact that some of the games like Sweden, Finland, Norway, and stuff like that are at like places like the Manchester City Academy Stadium, people are not happy about that, based on the fact that it's a smaller stadium.
But, at the same time, I think some of the countries that don't have a massive following will struggle to sell out an Old Trafford or a Wembley. And that's not disrespectful to those countries. I just think that's just the way it is.
The stadiums are still nice. You would rather have a small intimate stadium. I'm not sure certain countries could bring in 90 thousand people to a game and it would feel like almost would kill the atmosphere a little bit.
Who are your favourites for the Euros?
It's difficult because I get asked that question a lot and obviously me being English, people would expect me to say England, but honestly, I think Spain is gonna be the strongest. I like them, I like Alexia Putellas, and I like their players. I think Jennifer Hermoso, that fact that she's out with an injury is a big loss for them.
The way they play, they've taken their game to another level. Especially in the Spanish league with Barcelona and a lot of their players are obviously scattered all around as well. So, I think Spain is gonna be a massive team in this competition along with France.
I was still a little bit surprised that Amandine Henry was left out of the squad. I can't believe it, she's one of my favourite players to watch. She scored an unbelievable goal in the Champions League final. She's not known for her goal-scoring prowess, but she's such a fantastic player and the fact that they can leave players like this out of their squad shows you how strong they are. So, you can never write those types of teams off.
The nation you expect to cause a surprise?
Austria based on the last tournament in 2017, where they got to the semi-final.
In every tournament, there's always an underdog the people don't really look upon. I think you can never rule out Norway. The fact they got Hegerberg back. They're a fantastic team. In 2015 when we played against them, it took a Lucy Bronze, one of the best goals I've ever seen her score, for us to beat them. So, there are teams like that that I think go underneath the radar a little bit.
People have been talking about Germany, France, those types of things, Spain. But there are teams that are coming here to this tournament. I think teams like Northern Ireland. England obviously beat them over nine goals in two legs in the World Cup qualification final, but I think they're the types of teams that will step up.
But I still don't think their quality is enough, so there're be some teams that have the quality that will be able to step up. There'll be Northern Ireland that has good players, but I just beg to differ if they are able to make that jump. Such a big jump.
Based upon a lot of their players, some of them are not fully professional, this is their first tournament, in a very, very long time. So, there's a lot of excitement around the country and it's gonna be teams like that.
Which team could end up underachieving?
The Netherlands losing to England 5:1 was a massive shock to me. Because obviously I played against them many times in my career and I think Sarina Wiegman took them to another level.
Five years ago seems like such a long time ago. But she is the reigning champion of this tournament. But they've (The Netherlands) lost their manager. The other day was a bit of a, I wouldn't say a shock result or fluke, but to a certain degree, I can't see the Netherlands being beaten in that way as they got beaten by England.
The fact that their manager's gone, she's now with England, that is a big loss to them. So, I hope the Netherlands don't underachieve. They could be a team that I think people could have bigger prospects for and they had a lot of hysteria since they've won the tournament.
Their players have gone on to loads of different teams, Lieke Martens, Shanice van de Sanden, they've gone to Lyon and Barcelona and other teams and I think it really put them on the map. But, I think sometimes it's hard to sustain that. And I think we've seen that with those players.
Lieke has now gone on to play, she left Barcelona to play with PSG. Shanice is at Wolfsburg. There's loads of different players that move around a lot and I think it put the Netherlands on the map in women's football because they won the tournament and they were fantastic.
Sarina Wiegman led the Dutch to Euros glory last time out. Think she can repeat it with England?
With the group stages and how it's set out if the Netherlands make the finals, it means England doesn't.
My only worry is that she might be, not too little too late, but she's only coming into her own now. She's done amazingly well.
I think Sarina Wiegman's brought ruthlessness to the team, I think it's different.
I love her in her press conference. I played against them many times when she was the Netherlands manager. But the way she is, I've heard it from a lot of journalists, I think she is very nice. She doesn't really give off much, but she's not rude. And I think you can see that from her players. She has a good understanding with them.
I like the fact that there's no loyalty, and what I mean by that is that she's come into this job and she's picking players. I think there are some players that have been picked based on leadership and based upon their role within the squad, not necessarily within the starting eleven. But I do think she's not scared to make decisions and think sometimes when I played for England and England's recent teams in recent years, it's been based upon kind of popularity or what they've done in the past.
Whereas I think she's just come in and genuinely picked the team that she believes is the best team.
My only worry is that she almost just got there and they had not many really difficult games. But, I like the fact that they played Belgium and the Netherlands because these are tough oppositions. And obviously, in the World Cup qualifiers, you can't pick the teams you play, you have to play against what's in front of you.
So, hopefully, she'll be the missing puzzle piece, because England should be winning the tournament at this point. With the amount of backing from the FA, the players, and everything around the women's game in England, there could be no excuses anymore. So, I do think that we should definitely be up there.
REUTERS / Alamy Stock Photo
What do you think of the England squad for the Euros? What are the strengths and weaknesses?
I think we're very strong in the attack. When it comes to the players, who'll be massive in this tournament for England is Beth Mead. I think that Chloe Kelly, I don't know what her role would be, I think it's probably going to be likely off the bench. When I saw her against Belgium, she came on and completely changed the game for England.
It was 0:0 at halftime, they made three substitutions, Chloe Kelly and Alex Greenwood being one of them, and they changed the game. The fact that we have a lot of strength in depth now is massive. I think that Lauren Hemp is going to be a really big player for us if we can get her the ball, and I say that because when she gets the ball, people cannot get the ball from her.
She needs to get on the ball more for us to be dangerous. I think my only worry sometimes is that backline. I think defensively centre-back-wise, I prefer it when Leah Williamson is in the back line. Because when she plays with Keira Walsh, they're very good together.
Against Belgium Leah actually had a really good game. She got the player of the match. But her role was almost box to box, she's making third-man player runs and things like that, which I think makes a better team. I don't think Leah will not be in a position to be able to do that.
So, that's my only worry.
I preferably would have maybe an Alex Greenwood and Leah Williamson sitting in the back line next to each other. Maybe Millie Bright will go out of the lineup and people might think that's a really strange, ludicrous thing to throw out there.
I think Alex Greenwood really has to play, and against Belgium really she didn't play based upon the fact that she got COVID and was coming back from that. Cause Demi Stokes started in that game.
When Alex Greenwood is in the left-back position or centre-back position, she has to play because I think England is better when she is there. A lot of positives.
Steph Houghton realistically never should have been there in the first place based upon not her playing any games. Not based upon not being good enough, based upon her not having any games this season and having the injury and not playing.
Sarina has handled that situation in the best way she knows how. I feel for Steph a little bit, but I do think it became a story, that was a non-story because they didn't protect her enough in my opinion. I feel sorry for her.
Leah Williamson as England captain – think she is the right person to lead England?
I think Leah is a fantastic role model, I think she is definitely a captain for the future. I like Leah as a person on and off the pitch. I played with Leah a number of times when I was in Arsenal. But for me, at this moment in time, there is only one person, and that is Lucy Bronze. That is who should have been given the captaincy. And until Lucy decides to retire from international football, I believe that she should have been given the captaincy. That is my opinion.
She (Lucy Bronze) is not the most vocal person off the pitch. But you don't always have to be, to be the captain. People lead in different ways. I love Lucy as a player, and her mentality when it comes to winning, and just the way that she is, she is someone that I valued as a teammate.
That's not to say that Leah isn't up to the standard. Cause she is. Leah will be the England captain for a long long time. But I was a bit surprised that Lucy Bronze, or even Ellen White, who hasn't had the best season at Manchester City. But these are players who have been in the squad for a number of years.
It seems that Ellen White will start, and Lucy Bronze will start. So obviously, you gotta have a captain who is most likely to start. I think Leah is not the most experienced when it comes to playing for England, and also captaining the team.
Maybe some have even looked at it, as a new manager, you want to really set out a new regime, and future situation. So definitely, Leah is one for the future of England, she is going to have a long England career, but for me, If I were Lucy, I would have been very disappointed.
With how competitive the WSL was last season, do you think that'll give English players, especially the ones who played for Chelsea and Arsenal, an edge in dealing with the pressure?
I definitely think so.
I've always said that it is difficult to replicate big tournaments when you are not in big crowds. And it is not even that the players are not ready to be big-game players, it is just that the crowds in England never used to be that good. I still think they can be better at a lot of the stadiums.
I think that is something that needs to be focused on, and grown next season. But I think a lot of the players are now playing more competitive games in high-pressure situations which you really want to be able to replicate in a tournament in football.
Because, for me, whenever I played for England, I always felt like there was way more pressure, even if it was not playing against a top nation. Because the playing for your country, the badge is almost too heavy for some people. Whereas I always felt like I thrived under pressure.
But I've also seen teammates that have been scoring loads of goals in the WSL, then go for England, and can't handle everything that comes with it. It's down to their mentality really.
I used to thrive in that situation when it comes to my own personal development and ability. But I think the fact there are more competitive games is so much better for the England team, and the squad is really professional. That is something that I have always said. The girls can now solely focus on playing football, they don't have to work part-time and play in tournaments. And for some people that might sound ludicrous, but that is something that we used to have to do. That is the reality, and that is where the games come in, and it is not a surprise to me that the England team has progressed and got better. Because the team can now focus on being footballers.
How much do you think being at home will be an advantage for England?
I would be so excited. But I think it comes down to managing your emotions.
The first game against Austria is sold out. All the games are sold out, and everybody knows the finals are already sold out.
I would be mindful of when we've been in tournaments. It sounds cliche, but the manager always used to say that we take each day at a time, (each) game at a time. And the media used to think that he or she was just saying that to the media and actually doing something else in the changing room. But that wasn't the case, we got to the semifinals of the 2015 World Cup. We kinda found ourselves there, playing against Canada in the quarter-finals, and we were in Vancouver, and we were playing in front of a sold-out stadium, and we won.
And I feel sometimes it can be detrimental to be the team playing against an underdog because the underdog might want to step up now.
Against Canada, we weren't the underdog, but it was in front of a stadium that was sold out. Everybody was Canadian aside from our family and friends. And you couldn't see them in the stadium. But we won, Jodie Taylor scored a fantastic goal, and it can be almost detrimental, but I don't think the players will feel that way. I think they are equipped, and they can thrive.
Realistically, apart from Norway, we should win the group pretty comfortably. Norway is really our only threat. So I hope that in the first game against Austria, we will be able to see from then how the players manage their emotions.
The Belgium game for me was a big turning point. And people might say why was that? But Sarina Wiegman made substitutions at half-time, which impacted the game and allowed us to win 3:0. Because at halftime the team was playing well, but couldn't put the ball in the back of the net. Taking too many touches and that kind of thing.
All these games will be big tests based on the magnitude of the tournament. And so it comes down to managing emotions. Hopefully, they have a sports psychologist, and things like that, that we had, that I feel like could really help you in tournaments. Managing your emotions, not only if you are playing, but also if you are not playing.
And I think sometimes when I've been in tournaments, and I've played and when I've not played, it is difficult. Because you start second-guessing yourself, you start to question yourself, the manager doesn't really speak to you, so you have to manage all those different things yourselves.
---
LATEST COMMENTS
No comments yet
---