football
| Tuesday, June 28, 2022 11:58 AM
(Revised at: Sunday, July 3, 2022 6:29 PM)
Talking Football With....Robbie Fowler: Núñez Will Be A Handful For Defenders
REUTERS / Alamy Stock Photo
Ahead of the BookmakerAwards in Amsterdam next week, we caught up with Liverpool legend and icon, Robbie Fowler.
We discussed Liverpool's recent transfer activities and how Darwin Núñez compares to Manchester City's signing, Erling Haaland. The former striker talked about how he is disappointed in seeing one of his favourites, Sadio Mané, leaving the club but is happy with the legacy Mané leaves behind. Lastly, he talked about squad depth at the club and how scouting currently is.
Robbie Fowler will be attending the awards ceremony and will be presenting some of the winners with their awards.
---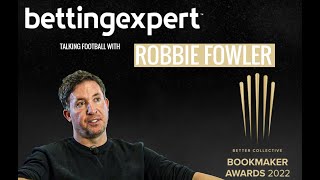 How excited are you about seeing Darwin Núñez suiting up for Liverpool?
"He is the type of player I wanted to see Liverpool have for a number of years."
"Everybody knows I am a striker. I think my love for the game is up there with my love for the players in my position."
"Liverpool has had great players and great strikers over the years. You look at (Sadio) Mané and (Mohamed) Salah. Players who can change games. I think Darwin Nunez is that type of player, who can change a game. He can maybe pull a nil-nil into a one-nil in your favour."
"I know Manchester City is thinking exactly the same thing with (Erling) Haaland."
"From a Liverpool point of view, they have gone out there to spend money. They've lost a player, Mané, which is disappointing. They got money for him, so they've received more money than they've spent five-six years ago. Probably good business for the club."
"Let's be honest, it probably is a bit of a gamble. Any player going into any club is a bit of a gamble."
"It is a gamble I'd more than happy to take. I think when Liverpool is signing players, the signs and the infrastructure about these players, I think it is relentless. I think what they do, how they look into the player; how his mindset is, how his family life is, and how his life outside of football is, is all taken into consideration."
"I am excited to see him play. I watched him a bit last year, I don't claim to know everything about him, I'll be honest about that. But what I did see last year, I think he would be a handful for Premier League defences."
"Whether he is that player who will be the change I don't know. But time will tell. I'd be confident of him doing well. Certainly under Liverpool with Jurgen Klopp, and the players that are around him. It boils down to a great signing."
REUTERS / Alamy Stock Photo
How do you reckon Nunez and Haaland will start out and who will have the strongest start to their Premier League career?
"I hope Nunez does in all fairness. But I think he is more of a gamble for Liverpool as opposed to Haaland for Manchester City."
"Regardless of Haaland being at City, I think they still have other players who can score goals. As much as they are probably similar players, the teams are totally different."
"Manchester City might not rely on Haaland as much as Liverpool will rely on Nunez to score goals. So I can see Nunez being more of a gamble."
Is either Nunez or Haaland going for the Golden Boot?
"I think both of them in all fairness."
"The last couple of years you have had Son at Tottenham, Salah at Liverpool. Mane has scored a few goals. Harry Kane. You sort of know all these players are there and there about. And it will be exactly the same. Manchester City will score goals."
"They (Manchester City) haven't had that archetypical type forward for a few years, since probably (Sergio) Aguero. So I think he will score goals, I think he will probably be a big favourite because of the way Manchester City play."
What kind of impression does Sadio Mané leave behind?
"I am a massive fan of him, he was probably my favourite player, in all fairness, playing for Liverpool. I loved watching him. I like players who get you on the edge of your seat, players who excite you. And he is that type of player. I think he is capable of creating something out of nothing. You want players like that, especially when the games are tight."
"The defenders are sitting deep, you need magic from a player and I think Mane could produce that. Will he be missed? I mean, time will tell. I think it is not easy now to sit down and say yes he will or no he won't, cause quite honestly, we don't know until we see the team play."
"The legacy he leaves now will be unbelievable. He has been one of Liverpool's better players in the last five or six years he has been in the club."
"And the fact is that he came, I think it was 28, 29 million spent on him, and now they are touching 35, 40 million. What a bit of business that is."
"I am not saying we have seen the best of him, I mean he could go to Bayern and still be unbelievable. No doubt he will be, but we as a club had so many good years watching him play, watching him perform. From a business point of view, a business sense, it is a great deal for everyone."
Is Mané a Liverpool legend?
"Yeah, I think so, there is no reason why he shouldn't be up there (with other greats). He scored goals, he won trophies, and he has been a fan favourite. And when you think of Liverpool greats over the years, that is what they've done, they won trophies, they scored goals, and they had a great rapport with the fans. I find it odd to speak to any Liverpool fan and not have a good thing to say about Mane, I think he has been brilliant."
In which areas does Liverpool need to strengthen their squad?
"It is funny actually when you talk about Liverpool. One of Liverpool's problems over the years was they never had the depth, they never had the squad to compete on every level. All of a sudden they got that squad to compete at every level. People would say, maybe we don't need to play that many games. I don't get that, I really don't because we want them to compete at every level."
"There are a few options for certain players, we don't know whether they want to keep them or not."
"I don't want Liverpool to be in the same boat they've been in a few years ago when the squad wasn't great. Don't get me wrong, the first eleven now would be brilliant, but when you start getting rid of maybe three or four players, the squad is not as strong as it was."
"So then you maybe go back to the level it was maybe a few years ago. And I don't think Liverpool can afford to do that now, because they've worked so hard, and they did so well to get where they are. And I don't want to see that stop, I want them to sign more players. Who else they will sign I don't know, will they wait another year to bring another midfielder in, time will tell."
"Football is seeing a lot of teams in precarious positions because if you are not signing players, you are not necessarily standing still, you are going backwards, because teams will sign players."
"And when they are signing players they are going up, you expect a little bit more from them. So I think you should always sign players, just to keep everyone on their toes, to keep everyone going a little bit more, to inspire and motivate your team."
"And I think certainly with Jurgen, that will always be the case, he will sign new players."
"The time will tell, we don't know if anyone else will come in. I like to think there would be because it would be an absolute shame if Liverpool doesn't progress the way we all believe they should do."
Are Luis (Diaz) and (Darwin) Núñez 'just' to be considered replacements or are they also brought in to add depth to the team?
"Absolutely. You want your squad and your teams to be able of competing."
"I know (Luis) Díaz came in as a bit of force signing, in terms of other clubs being interested. I think the club was interested in bringing him in, but not at that specific time. Maybe interest from other parties brought the deal a little quicker. And I am glad because he is a wonderful player. Maybe his form contributed to Mane wanting to go."
"But we have options as a club, and that is what you want. Certainly as a manager, as a fan, you want your club to have options."
"If any of the first eleven got injured you want these options to come in and be of a similar level to what's going on. And that is probably what I am alluding to with Liverpool. Liverpool couldn't do that in the past. But I don't want them to lose that moment now where they've got players that can come in. Because it would be an absolute shame if the squad is not capable of competing."
Can you elaborate a bit on Liverpool scouting?
"I think it is really simple."
"We are driven now by a stats game and a data game. We have all seen the Money Ball film. I don't think it is as complex as that."
"I think we look at the player stats, how he brings others into the game, whether he can keep hold of the ball and bring others into it, whether he can score goals, whether he can roam behind, whether he can roam this side of the defence."
"I think one of Liverpool's problems, it sounds stupid because of everything, I've seen in the last couple of years. A lot of teams have played sort of sitting deep. Liverpool has played all the football in front of the defence."
"Now we've got a player obviously in Nunez who can come maybe this side of the defenders (play beyond the defenders)."
"This should be obvious for a striker, but sometimes when you are this way, it makes the defenders want to roam backwards. It creates space for certain other players (in the middle) in these roles here. This has been played for years here, which obviously condenses the play. Nunez is a little bit of that player, he can play off the shoulder."
"The signs in terms of players, it is position specifics. It is bringing others into the game, it is knowing the fact that if the ball goes here you can hold it off, and you can bring other players into it."
"If you are the striker and the ball keeps coming up to you, you are not really gonna get any chances because the ball has gone back and the opposition has the ball all the time."
"So you are not really gonna get any chances created from your team. But a good striker will always be the one who can hold it, feed others and then get himself into the box, for a cross or for a forward pass."
"I think that is not as easy, don't get me wrong. But I think if you look at stats in terms of the speed, the movements, the dribblings attributes, it is not as easy. I think he will score goals."
---
LATEST COMMENTS
No comments yet
---