football
| Friday, July 1, 2022 2:00 PM
(Revised at: Monday, July 4, 2022 4:47 PM)
Lianne Sanderson's Women's Euro 2022 Previews: England vs Austria, Germany vs Denmark
REUTERS / Alamy Stock Photo
Ahead of the opening fixture between England and Austria, we checked in with Bettingexpert's own maestro, Lianne Sanderson. The former forward discussed what to expect from the game and how the excellent WSL players in the Austria squad can pose a challenge for the strong English side.
Lastly, the former Lioness gave her prediction on the England – Austria and Germany – Denmark game.
---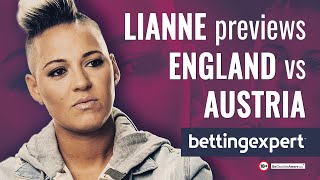 England is up against Austria first. What are your expectations from this game?
I think we will do it (steamroll Austria), but I also think you (should) give them respect. In the tournament in 2017, they got to the semifinals, and that is not an easy feat to do. And sometimes, teams like this can go under the radar, similar to Iceland in the men's game.
There is always going to be a team that other nations and other people like to follow.
I think there are teams that will be good (as always), but there are also teams like Austria, who will thrive. If I was playing for Austria, in the opening game at Old Trafford at the Euro, I would be so excited. Because you would want to cause an upset.
Will the presence of WSL players like Viki Schnaderbeck, Manuela Zinsberger and Laura Wienroither pose a challenge for England when they play Austria?
Those players are in Arsenal and have had experience in (playing for) Arsenal, which is one of the biggest clubs in women's football in the world. But, what I would say is that it is difficult because there are only two or three of them. That's not to say that the rest are not good, but it is difficult when you come from such a small country when it comes to population.
The pool of players is going to be much smaller to choose from. And the quality isn't you know, Austria is not really known for being a big powerhouse in the women's game. But, Zinsberger, coming from a goalkeeper's perspective, I feel like that is a big position. That is something that can stamp an authority down on the game, similar to (Christiane) Endler, who plays for Chile, that was in Lyon, now in PSG, she has an impact on the game similar to Ederson or Alisson.
So, it can be impactful, but I don't think they are going to have enough quality.
For them to beat us, to beat England, they have to play at their maximum, and the fact that it is the first game of the tournament, we can use it and it can work for England.
What are your score predictions for the England – Austria game and Germany – Denmark.
(For England – Austria) I don't think it is going to be complete, you know, three or four-nil, I think it is going to be a close game. I think it is going to be 2:1, to England. I think we saw that in 2005 when England hosted the tournament before. Karen Carney scored a last-minute goal against Finland, to make us win 3:2, and I think these kinds of games are not going to foregone conclusions be three or four-zero. So I am going 2:1, England.
(For the Germany – Denmark game) I think Germany in recent years, kind of not dropped off, but kind of, based upon a lot of the players have retired, I think a lot of their strong players have retired when it comes to personality.
Nadine Angerer was a fantastic goalkeeper over the years. You can never write the Germans off because they just seem to have that massive mentality that other countries just don't seem to have.
I think for Denmark it is going to be difficult, but I do think that with the likes of Nadia Nadim and Pernille Harder, that is not going to be a game like it was years ago, when I would say Germany would win with five-nil. It is not going to be like that. I think it is going to be pretty close. So I am going to go with a one-one.
---
LATEST COMMENTS
No comments yet
---