football
| Monday, December 12, 2022 2:31 PM
(Revised at: Monday, December 12, 2022 3:30 PM)
Talking Football with…. Mikael Silvestre: England Have the Talent. They Will Bounce Back After Even Defeat
PA Images / Alamy Stock Photo
In the latest of our special series, we sat down with Mikael Silvestre to reflect on France vs England and preview the semi-finals of the World Cup. Mikael spoke candidly about France 2-1 England and revealed whether he thinks the Three Lions will bounce back from this disappointment. There were also questions on the World Cup as a whole and a brief look ahead at the Premier League's return.
---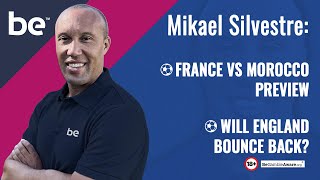 ---
How did you feel about France's performance?
"We were not in control for most of the game. We knew it was going to be a tight one so it reflected my view that in some moments France was on top and in some moments, England was on top."
"It was a very tight game with goals, opportunities and yeah, France won but it could have gone England's way."

Who do you think was France's best performer in the match? Who, in your opinion, was England's best?
"For France, I'd say Griezmann. His deliveries, he assisted. He's working hard for the team and showing his worth in the midfield."
"With Rabiot and Tchouameni, it's a good combination and he's the one for me who stood out in that game. He had the full 90 minutes in which he was in the game."
"For England, Saka for being so dangerous, taking on players, causing issues. He got the penalty. He was for me, the number one player, in terms of performance, for England."

How do you think England dealt with Kylian Mbappe in the game?
"They did very well."
"You could see sometimes it was not one or two but three players around him."
"They kept him quiet in terms of goals but he was still able to create and do what he does – take on players and connecting with others."
"Overall, England dealt very well with him."

Any thoughts on the refereeing decisions in the game?
"For me there was that one incident where VAR was called. The incident with Kane in the box. We've seen this one given before. That's why I said that this game could've gone either way."
"But still, you have a penalty doesn't mean you're gonna score (laughs) and we saw that with the opportunity missed."
"The referee had some big calls, big decisions. Some were in favour of England and some were in favour of France."
"So, I think we can't complain about the referee as French, for sure."

England are out but do you think they possess the talent to win a Euro or World Cup in the coming years?
"They will. The thing is every two years you have a major competition up for grabs. It is important that you get a trophy because playing well and progressing is good but you need to get silverware, right?"
"Because that's the only thing that matters at the end of the day."
"England will need to score silverware soon because they've got talent and a young squad and they will be together for a number of years. I'm sure they'll have more players emerging."
"They need to grab that opportunity at the next Euro or the next World Cup because they've got the potential and that they can progress in to tournaments."
"There's hope. There's belief. Rightly so, because the level of performance, individual and collective, has been very good."
"They were not that good going into the tournament. The last year or so, some bad results. Went from the top of the Nations League to the second division."
"Going into the tournament, they were not at the top of their confidence but they know their strengths and they were ready for the tournament."

England is done but the next step is Morocco. How do you see France breaking down Morocco's miserly defence?
"It's like the old Italian catenaccio style of football. They're using their strengths. They're hard to break, tactically very well positioned."
"And then they're bringing extra force in terms of commitment, resilience, dedication and a lot of passion. They've managed to do that against Spain and then Portugal – very difficult to beat. They could have actually scored more goals against Portugal on the counter."
"For France to find the way, you don't want Morocco to score first. Avoiding conceding first will be the priority."
"You have to show courage and try to score without opening the base of defence. You have to commit players forward, try to overload one side or the other, or the central position."
"But at the same time you need to be extremely cautious because they'll go on a counter and when they go on a counter, they play a hundred percent. They can create something."

After the England game, do you think Didier Deschamps needs to alter the XI against Morocco? Who would you replace and why?
"I don't expect the team to change because okay, it's a big win against England but what's more important is that the players are getting used to each other."
"Remember, there's lots of new faces in that starting XI, so to add experience before the final, it's important to stick with the same starting XI."
"If there's no players complaining about tiredness or injuries, I don't expect any changes."

Which Morocco players do you think can cause a lot of problems for France?
"The goalkeeper has been tremendous. Ziyech, Boufal, the centre back and captain Saïss has been very important. I don't know if he'll be fit but he's been a key element with his leadership and experience. For us French it's no surprise but Ounahi from Angers is good."
"It's not just one. There are a bunch of players that have been performing really well."
"Amrabat is amazing. The amount of ground he's covering. He's key. Especially in that way of defending. He's very important."

Morocco gave absolutely everything against Spain and then again against Portugal. How hard is it to play matches of that intensity one after another and will this France game be one too many?
"With the level of passion they've shown it is difficult to recharge in such a short space of time in theory. But because it's a world cup and they've got the Arabic and African world behind them they can show the same commitment, energy and passion for the next game i think they are capable of winning."
"They have so much positivity around them. The families, the fans. It will be easier than any other circumstances to recover and go again."

For the Moroccans, this will be like a home match. As a former player, what are some ways you can see the current French side adopting to not allow the crowd to get into their heads?
"The crowd will be 80% Morocco and 20% France. There will be a lot of whistles and boos when France have the ball. It's important to kill the game by keeping the ball as much as possible. Not keeping it for the sake of it but by trying to score goals."
"When you have the ball you don't give them hope."

Any French players you think need to do much better than in the game against England?
"We conceded two penalties so the rash challenges need to stop. They've got good penalty takers and tricky players that can dribble and slow down in the box. For us we have to be aware."

How excited are you about the prospect of a France-Argentina final? Or even another France-Croatia final?
"Once you reach the final it doesn't matter who you play against because the trophy is at stake. Croatia will be as exciting as Argentina. Being world champion is huge enough whether you beat Messi or Modric."

We're at the semifinals. Who, in your opinion, are the top three contenders for the Golden Ball right now?
"Modric, Messi and Mbappe for me. From Morocco I'll go Amrabat."

Any player that has exceeded your expectations in this tournament so far?
"Theo Hernendez wasn't supposed to play and he's doing really well."

Harry Maguire was a rock at the back for England in the World Cup. Do you think he should be reintroduced to the Man Utd XI, in light of his performance in Qatar?
"England are out and Martinez and Varane are still in the World Cup which shows the level of competition he's at. It's been very positive for Harry to go away and play in the biggest competition on earth."
"At the big clubs you're competing in every position. Centre back is a position in which managers don't rotate players. If Harry was a midfielder, winger or striker he would have gained more game time."
"Either you play or sit on the bench. There will be competition between no and the end of the season and he has to take his opportunity. He will be given time to play and it's between him, Martinez, Varane and Lindelof which is high competition for places."

Marcus Rashford also was in good form during the World Cup – expect him to bring back that form to Man Utd once the Premier League resumes?
"He has been scoring goals and it looks like he is enjoying playing football again. I think that he will bring that back to Man United once he returns."
"It is a really important season for him and he needs to keep this high level. I really hope he does because he showed the right attitude when he played for England."

With England and Brazil out, only a few Man Utd players will play in the last week of the World Cup. Is that good news for Man Utd fans?
"No, overall it's always better to have players in the World Cup than not. Because if you have players that go far in the tournament it means that you have high quality players."
"The downside is that you might miss some players when the Premier League is starting again if they go all the way to the final because the players need time to recover."
"But overall it's better to have players in the competition even though I know that many managers would like their players to return early."

When we get back to the Premier League, Anthony Martial will be fit. What are your expectations from him now that he looks to be the undisputed centre-forward for Man Utd?
"Obviously there is less competition in the squad now with Ronaldo being out of the picture. There will be more space and opportunity for him to get time on the pitch."

Bukayo Saka was one of England's shining stars at the World Cup and has been extremely important to Arsenal. Where do you think he can improve? Can he be one of the best players in the world in the near future?
"Maybe Bukayo Saka is a bit too nice. He needs to be a bit more aggressive. He is extremely nice so he needs more aggressiveness in his game. He has improved in that sense and it can be very tricky sometimes."
"Other than that I really don't think he needs to improve on that many aspects. He has done really well for Arsenal and he is still a very young player. If he can get a bit more streetwise, I think he is there"

Think Saka can be one of the contenders for the PFA Young Player of the Year Award?
"He should 100 percent be there or thereabout to win it. He should be nominated for sure and if he continues like this Arsenal will raise their chances for winning the championship."
"He should be rewarded for his amazing performances in this World Cup. What he is doing at the moment is confirming his level from last season."

Among Arsenal players at the World Cup, Saka was the one to play the most minutes followed by Granit Xhaka and Thomas Partey. This relative freshness when compared to Man City players and other clubs, is that a good thing for Arsenal or can it be a problem?
"I don't think that is going to be the deciding factor in terms of who will win the Championship. Man City also only got Julian Alvarez left in the World Cup so that is not going to play any part."

When we return to the Premier League, do you see Arsenal relinquishing their top spot due to Gabriel Jesus being out?
"Of course it will impact the team. We have to remember that there will still be eleven players for Arsenal in the lineup and they will find a solution."
"Eddie Nketiah is able to play and he is an amazing finisher but it is a massive blow to miss Gabriel Jesus. They need to fix it either internally or in the market."
---
LATEST COMMENTS
No comments yet
---