football
| Thursday, November 24, 2022 4:14 PM
(Revised at: Friday, November 25, 2022 9:47 AM)
Talking Football with…. Mikael Silvestre: England Answered the Doubters, It Will be a Hard Game if they Play France
Xinhua / Alamy Stock Photo
In the latest of our series of interviews with Mikael Silvestre, we discussed all things the World Cup. Matchday 1 of the group stage is almost over and we quizzed Mikael on which teams have impressed him the most. The former France international was also asked about his national team after France's 4-1 win over Australia. We then previewed matchday 2 in the group stage with a special focus on France vs Denmark.
---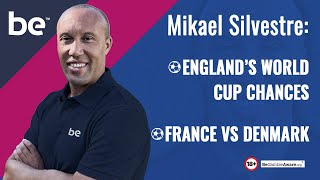 ---
It was a 4-1 win for France against Australia but Denmark look to be a bigger challenge. What are your expectations for the game?
"Denmark has been giving France a tough time in previous games. Should be no different."
"They (Denmark) are a good team even though they were not as convincing in their first game."
"They are growing into the competition like most teams. You know, the first game is always difficult to manoeuvre".
"But I think they will improve to being a very difficult challenge to overcome. Because they've got a great dynamic, very good players and manager.
"It's a very positive atmosphere for this weekend, I can feel it from the outside."
Denmark didn't have the best of starts with a goalless draw against Tunisia. But they have won 2 and drawn 1 against France in the pair's last 3 meetings. Why do you think Denmark has been France's bogey team?
"Pure quality. They've got quality all over the squad and I think they know each other well. They've been playing together for a long time through the age groups of the national team."
"When you have a small country, in terms of population, in football, the players start at 15 with the national team and grow up together. That's why the team, on a collective level, is functioning so well."
Which weaknesses from France do you think Denmark can capitalise on and which Danish player could be the biggest threat in that sense?
"The French defence, depends if Raphael Varane starts, it's a bit inexperienced in central defence."
"Playing together as a line, those guys haven't played too many games together. So, they will be tested in that game more than they were against Australia."
Were you impressed with Aurélien Tchouaméni who played in his first ever World Cup against Australia?
"He did well. He did what was expected of him. Recover the ball, organize, link up the play. He played simple but I think he achieved what was asked of him."
"He's lacking experience, nevertheless, his performance level was excellent."
There's talk that Karim Benzema not being in the squad is a "blessing in disguise" for the French locker room. Do you agree with that?
Is Karim Benzema's absence a blessing in disguise? (4:50 to 5:30)
"No, I don't agree with that because at the Euros, the dynamic was very good with other players – Mbappe, Griezmann."
"So, Karim is a big loss and we are lucky that Olivier Giroud is in great form with AC Milan and he's bringing that confidence and class into the national team."
"So, it would have been better to have two top number 9s but so far, so good in the one game."
"Giroud equalled Thierry Henry's record for most goals for France, so it's very positive."
Will Giroud be regarded as a legend for France?
"I mean until Mbappe or someone else takes over that record."
"I believe Giroud going to break it, hopefully in the next game."
"His name will be there. When you've achieved that, it means you have quality."
"He's not competing for the Balon d'Or but at the highest level, when you've played for Arsenal, Chelsea, AC Milan. You play in the Champions League and compete for and win titles. He's up there with the best ones."
Are France a more balanced side with Giroud instead of Benzema?
"No, I think they are different."
"Olivier is less mobile but as a point of attack, to link up the play, he's offering something different with his body, the way he's capable of playing one-touch passes and helping the team to progress. He can hold the ball very well."
"He's a different player than Karim but yes, he has qualities that are vital. The most important thing is he's scoring goals. He's there in the box and his anticipation and movement in the box has become better and better over the years."
Lucas Hernandez is now out of the World Cup and for the remainder of the season. How big of a blow do you think that is?
"Having Lucas Hernandez out with an injury is a massive blow for France."
"We don't have that many fullbacks and Ferland Mendy is not in the squad so it is a blow because we don't have any cover for Hernandez."
"But of course I also feel very bad for Lucas Hernandez for being injured only a few minutes into the World Cup. It must be tough for him."
With so many injuries, has France lost that depth that it had in the last World Cup, the same depth that was a factor in winning it all?
"France obviously have a lot of injuries in terms of Pogba, Kanté, Maignan, Kimpembe and now Hernandez. That is a lot."
"But we have a lot of talented players who now have to show how good they are. Now it's time for Upamecano, Konate, Tchouameni and Rabiot to take the stage and show that they are talented."
"I think they can help the team to progress and hopefully they will get the confidence, so France will be able to manage all the tough teams we are going to face."
Hugo Lloris has been shaky for Tottenham at times in recent years but for France is their captain and always reliable. Why do you think this is?
"I don't agree that Hugo Lloris has been playing badly for Tottenham but goalkeepers get exposed easier than outfield players. It was definitely the case with Pogba that he played good for France while being in a questionable form for his club, but I don´t think that is the case with Lloris."
"I'm really not concerned about Lloris because he has always been able to bounce back and his experience helps him a lot doing that."
With France winning so comfortably against Australia do you think Konate and Upamecano should retain their places or Raphael Varane should return?
"If Raphael Varane is ready, he should be in the starting eleven. He can help the team a lot with his experience but it's really up to the medical staff. But if they can get him ready, he should start."
Kylian Mbappé and Erling Haaland seem to be this generation's Messi and Ronaldo. Do you think a World Cup trophy for France would make Mbappe the Ballon D'or favourite?
"To win the Balon D'or you have to win trophies and Benzema did that when Real Madrid won the Champions League and La Liga."
"But of course Kylian Mbappé is very hungry to win this, just like it should be. I don't know who will win it between him and Haaland, but with these two players we have an incredible battle ahead of us for years to come."
Bukayo Saka continues to perform at such a high level for both club and country. Can you see anyone taking that right winger role from him for England?
"Bukayo Saka is really going at the moment."
"He is performing consistently with goals and assists. He is a very important player for both Arsenal and England despite his very young age."
What did you make of England's 6-2 win against Iran and where can you see them causing France issues if they come up against each other later on in the tournament?
"England answered the doubters when they won against Iran even though Iran wasn't really challenging them. But England has a good team and can challenge a lot of teams at the World Cup."
"How far can they go? That also depends on which team they are going to face after the group. But France against England would be a good and a hard game."
What did you make of Germany's performance? Think they should have brought on Niclas Fullkrug?
"The goalkeeper was amazing for Japan. Decisive moments. Four saves in a row. It was amazing."
"For Germany the next game will be extremely important. They ran into bad luck against Japan. Not to take anything away from Japan."
"It's a tough one for Germany with their backs against the wall in the second game.They will have to hold their nerves."
"With Niclas he's fresh air. Pressure doesn't mean anything to him. He wants to play, enjoy himself and score goals. If he has the opportunity to play he can bring something interesting for Germany."
Do you think there could be a possibility of Germany being knocked out of the group?
"They should be concerned because they're playing against Spain next game and Spain have been on fire."
"I don't give them a lot of chances to stay in the tournament. They have to win because you expect Japan to beat Costa Rica. It is do or die for Germany."
Spain had a convincing win over Costa Rica. How far do you expect them to go in the competition?
"Tiki taka plus the fast forwards Daniel Olmo, Marcos Asensio are proving that Spain are one of the favourites. Very nice football to witness and very good finishing. They didn't put a foot wrong. It was impressive."
"Costa Rica was a bit shy. Not much resistance and going forward was not good enough."
"Spain was all over them. They were in possession most of the time."
What about Argentina? Do you still expect them to make a late run in the competition?
"Mexico next game. What a game. It's a bit like Germany vs Spain. Tough one but I wasn't impressed by Mexico in their first game."
"Argentina has to step up the quality of play going forward. Collectively it wasn't a top performance."
Which teams have impressed you the most so far?
"The big surprise is Saudi Arabia. Nobody expected that. It was fully deserved."
"England, Spain and France started really well. Doesn't mean they will win it but it's always nice to start the way they did. Full of confidence going into the second game."
"You don't want to be in Germany and Argentina's situation."
"Japan as well. A good surprise."
Manchester United and Cristiano Ronaldo have had a clean break. Was this the best scenario for all?
"Once the interview went on the club had time to reflect on it. It's the best outcome for all parties."
Where do you expect Cristiano Ronaldo to go next?
"I have no idea. He wants to stay at the top level and enjoy his football which is good. He still has a lot to offer so I hope he will be successful in his next chapter."
What about the reports that the Glazers are ready to sell Manchester United. Is this the best scenario for the fans? How do you feel about this?
"There's been a lot of rumours of English clubs being on the market to be sold. Chelsea has been bought. In the cycle of clubs there's a turnover. You look at Newcastle, Chelsea, Liverpool are on the market.
"I don't know about United but it shows football is a massive business which is attracting wealthy people. If it's for the benefit of the fans and the quality of the league it's good."
---
LATEST COMMENTS
No comments yet
---