football
| Wednesday, March 23, 2022 10:30 AM
(Revised at: Friday, March 25, 2022 12:48 PM)
Talking Football with....Jaap Stam: Whether Van Dijk is the Best Defender in the World
Sipa US / Alamy Stock Photo
With the big leagues being on international break, we caught up with former Dutch international Jaap Stam. The former Manchester United, AC Milan, Lazio, PSV Eindhoven and Ajax star discussed what we can expect from the Dutch national team in the upcoming friendlies against Germany and Denmark, and how the Dutch team is particular on their 4-3-3 system.
The former centre back gave his opinion on Liverpool star Virgil Van Dijk, the Steven Bergwijn situation at Tottenham, Donny van de Beek at Manchester United and Everton, and what the best prospects are in Dutch football.
---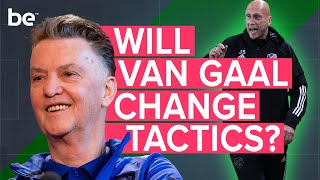 ---
Do you expect Louis van Gaal to try a new system, as he has been hinting that he would do in the upcoming friendlies against Denmark and Germany?
"I think here's a big chance that Van Gaal going to try something different now. In Holland, we're used to playing in a 4-3-3 system, and everyone is very, very happy with this style of play. So understandably there is a big discussion going on about how Van Gaal is going to play in the big tournaments. He has been hinting to go to a 5-3-2 system, which he's done in the past when he was the coach of the national team and he had success in doing so."
"He is also looking for certain players of certain ability that can fit that system, so he can hopefully, in his point of view, perfect it. Van Gaal is probably going try something to go towards that because the tournament is all about results, and everybody knows that."
"And of course, you like to stick to your own way of playing, the philosophy of the country, if you want to call it like that, is the Dutch way of playing. But at the end of the day, if Van Gaal plays in a five at the back and he wins the tournament, then everybody is going to be happy about that. So it's normal as a coach to look at different systems as well, if you want to get results in big games like this, in a big tournament, you have to see what works best."
But are you "allowed" in Holland to change the system from a 4-3-3? Because that's like the old Johan Cruyff way to play. So is it okay to change it to a 5-3-2?
"Yeah, it's okay to change it, as long as you have success. When Frank De Boer took over the national team, when Ronald Koeman went to Barcelona, Frank De Boer also played with five at the back in a 5-3-2 system. There was a lot of criticism towards him for playing this system, because it was different to the style that we are used to seeing for the national team."
"You're allowed to, and you can make, of course, as a coach, your decisions. But there's a lot of criticism, especially when you're not succeeding in play when making that change."
If you had to choose a system from the national team, what would you do? What kind of system would you play?
"It's interesting what system to go with. The situation also depends on the players that you have available. As a coach, you need to look at your players, and think "what's the system that fits well, with the players that I have?"
"As a coach that's what you need to watch and to look at as well. There's probably a lot of people that are saying 'You need need to play this system, because this system has been played for a long, long time in Holland, and you need to stick to it and not do something else.'"
"But the most important thing is the players that you have at your disposal because they change year to year. Do these players fit into that particular system that you want to play?"
"If not, then of course when you play in a 4-3-3 formation, you will still get a lot of criticism, because then the critics will say 'you are playing a system that doesn't suit the players you have, why don't you do something different?' That's always how it goes and that's why it makes it very interesting to talk about football, the different opinions everyone has and the different ways of looking at it."
"Me, myself as a coach, I always prefer to play in a 4-3-3 system, but that's also what Van Gaal probably prefers to do, as in the majority of his games, or the teams that he's been coaching, he has used that system. I would prefer to play in that system as well, with the four at the back, three midfield players and three front men, and don't forget the goalkeeper at the back! But sometimes you need to adjust yourself as a coach as well and look at the players you have available."
Does the current Dutch squad fit more into a 5-3-2 then a 4-3-3?
"The current Dutch squad can play in a "4" because that's what Van Gaal has been playing recently, as well as in the qualifiers and he's qualified for the World Cup playing like that. But when you look at the squad, Memphis Depay is at Barcelona, you know he plays as a front man, as a nine, as we call it in Holland, as a striker. But he's not a typical striker, he likes to wander off and take up different positions. Playing with two up front is ideal for him."
"So if you have a different striker up front, or two quick men, like Donyell Malen, who played at Dortmund, sometimes he played up front with Depay as well, that's a good system with the two."
"But if you're looking at all these players, who was the ideal number nine? That's been a discussion for the national team for a while. What type of player do you need to play up front? Is it Depay? Or do you want him to play a little bit more on the wing coming inside?"
"Is it maybe a (Wout) Weghorst, who is in the national team as well. He of course is playing for Burnley at the moment. There's some other options as well, such as Malen by himself, that's something they've tried too. There's a big discussion going on about these players and what the ideal setup is if you want to play 4-3-3."
"If you play with Weghorst, he's the type of player that likes to be in the box, he needs to get ammunition, for crosses to be put in to the box, to help him score. You can also play off him as well, as he is a big man who will pin defenders and win headers so you can link up a little bit more. But he's a totally different player than, for instance, Depay as a striker."
In defence, you have Virgil Van Dijk, who's maybe the world's best defender, and at Liverpool, he is one of the most important players. As a former centre back, how do you assess him as a player?
"Virgil has been doing very well. He had a good education. Where he came from, Holland of course, and then going to Celtic in Scotland, and then going on to Southampton and then going to Liverpool, it was a good education for him."
"Gradually he went to the highest level in football and made his steps and adapted himself to certain leagues and certain quality, which made him, I think, one of the best defenders in the World at the moment."
"So he's doing very well. Also, we shouldn't forget that he's playing in a very good team with very good players around him as well. That sometimes helps you out as a defender, to make things look easier. Without a doubt has he been doing very well and he has been very important for Liverpool. He's also of course been very important for the national team as well. Hopefully, he can carry on for years and years playing at this level."
Do you think he has any weaknesses?
"If you look at the game now, most of the time, he's doing very well. It's not a weakness, but I think, at times, in his positioning is something he can improve on a little. But if you play in a team with a lot of quality sometimes these things, because you're still winning, don't get punished straight away."
"If you want to talk about certain things about him, and it's not about looking for weaknesses because I think in general he's doing very well, but these are things that you still, at times, need to be a little bit aware of. I don't know Virgil very well personally, but if you look at him, and if you hear him speak and if you see him on a pitch, then you can see that he's a clever guy and he's probably always analysing his own game as well and what he needs to do to improve."
Okay. People say that maybe he is the best defender in the world right now. Do you think he's the best? Or is he among the best, or who is the best in the world?
"It's always difficult to say if he's the best. At the moment he is still coming back from his injury and he's getting back to his old level. He's showing his quality once again. Also because the team is performing very well it helps. They are winning games and that's very positive. There's still other players in the world who are very good defenders as well. In Italy, we've got a Dutch defender (Stefan) de Vrij at Inter Milan. I think they called him the best defender in Italy last year, so clearly he's also doing very well for them."
"I think if we keep it within the Dutch team, (Matthijs) de Ligt at Juventus is very young and I think he has a lot to learn, but he's a very good player. Outside of the Dutch, there is still (Sergio) Ramos, although he didn't play a lot, of course, but he is still, when fit, one of the best. I think (Joel) Matip who's playing next to Van Dijk is a very good player as well. I probably forgot quite a few, because it's not only the English League, it's also the Spanish league who've got very, very good players, of course."
"Giorgio Chiellini, we haven't even spoken about him and the thing is, it's always difficult to compare defenders in terms of playing styles because I think every player, every defender, has got his own personality, his own qualities, and not all the players are the same. So we're always looking at, if you're talking about best defender or best player, is it then the player in general? In all departments? Does he have a certain quality? That's what normally you're looking at with the best player or best defender. So they need to be quick, they need to be taking the correct positions, they need to be fast, they need to defend in a block, or can they defend in a one vs. one with a lot of space behind him? That means that you need to be very good and very aggressive in your defending at times, and that's what I'm looking at. I think these players that we just mentioned have a lot of these qualities, these things that you need to possess to do very well in the big leagues, the big games, and Chiellini, he's one of the best. He is also experienced with the Italian national team for years, and for Juventus as well. So it's a good bunch to pick from if you want the best defender in the world!"
"As a defender, you always need to be aware. And you always need to think that you're your opponent or that your teammate is going to lose the ball."
"And that's how you need to position yourself. If he loses it, or he makes a mistake, you're always there to cover and you can help him out. And if every player on the same line in the back four for instance, is thinking like this, then you can always help each other out and cover each other."
"Without thinking too much about your own man that you need to mark, because a lot of defenders at the highest level are still only looking at their own man that they need to mark and they forget to cover their teammates, to take up certain positions. That means, if you can do this, that you're tactically in the right position to help each other out. Sometimes it can happen that your man gets the ball, but it's not in a dangerous situation at the moment at that time."
"You always need to prepare and anticipate the situation, so you never get into a difficult situation. That's how you need to think. You always need to coach, you need to communicate, you need to tell others what to do, because that makes it easier for you. But it also makes it easier for your teammates, putting them in the right positions, and that's what you're trying to do. Of course, you get that with a little bit of experience as well. You need to have that little bit of ability for yourself as well to do so. Then football becomes a little bit easier for everybody, that's not only for me as a defender, but for everybody in their own position, you need to try to do so."
If you're still in your prime would you walk straight into the starting XI for the current national team playing alongside Virgil van Dijk?
"Yeah I would, or better said, they would play alongside me!"
"I, myself at that time, was in the same situation. They also spoke about me like this as well. It had nothing to do with the players that played at the same time – but you also need to be confident within yourself as a player in what you can do, so you always need to say yes to these questions."
Do you think Virgil Van Dijk is a similar type of player as you were or is he a different type?
"When he gets in certain situations he is similar, but there are differences (to me), because I think I played a lot more with a lot of space behind me at times, when I played for United and in different leagues."
"I think at times I got into more one vs. one situations, and that's because of how we played, how the coach wanted us to play. Times are changing now, and now you see that teams tactically work a lot more on defensive setups and what they need to do in every position. Myself as a coach, I'm doing this as well. But from what I remember from my career, I think we were working less like this than what it is now."
"I started as a left back when I was very young, left full back and then I went to the right full back position. In the beginning of my career, there was a coach in Holland who put me as a centre back, and then I started to play centre back for years and years. But when I came back to Italy especially at Lazio, but also AC Milan, at times I played as a right back again. It's a position that I can play and that I liked because of the abilities that I had and it's good for a player that you can play in different positions, because that also makes it easier to coach the players next to you as well in what to do, if you know what the position contains and what it maintains to do."
"To be honest, as a fullback I have played very well and had good games as well. But I established myself as a centre back, and that's what you might say my best position at the time, when I played for Manchester United I made my progress and I won a lot of trophies by playing in that position, not only as a team, but also individually I won a lot of trophies in that position. So yeah, you can say that was my best position (playing as a centre back)."
---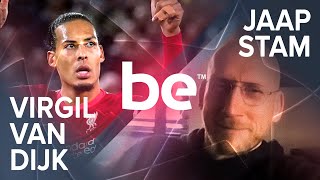 ---
Steven Berjwijn has only started once for Tottenham, in the Premier League since August. And now you have the World Cup on the horizon. Do you think he should consider finding a new club?
"If everybody thought like this when they were not playing, then you would have a lot of changes going around in the world of football! But I understand where you're coming from, in terms of he needs to prepare himself to get into the national team to get playing again at Tottenham, or to at least be included."
"At the end of the day, when you come from Holland and you go to a big team like Tottenham, when you're working with certain coaches, people expect you to play in a certain way, to be a threat for them, but also to pick your opportunity as well when you get the chance. He has played some minutes, sometimes he has started, sometimes he came on, he scored a couple of goals. Why the coach (Antonio) Conté is now making a decision to not start him? That's up to him, maybe he thinks that he needs to have a different type in his system of playing and using him as a substitute is good, with his pace, especially when you defend a little bit deeper, coming out on the counter attack, then you can use this pace as well when he needs to give somebody else a rest."
"But at the end of the day, he's still quite young. If you want to make steps for yourself as a player at a certain level, and if you want to get back into the good graces of Van Gaal, in terms of playing for the national team, then it is better of course for him to play more games."
"You can say maybe he's happy at Tottenham, and you never know what the relationship is within the club and with the coach as well. The coach may be saying, 'Yeah, at the end of the day, if you keep on working like this, you get your minutes and you are going to be starting'. That could be the issue, otherwise I think how he is and how people think from Holland; if it takes too long, then there's a big chance that he might say, 'okay, maybe I need to look for something else as well to play.'"
But do you think some players sometimes think 'I don't play, I have to change clubs' instead of just training harder, showing the coach they need to play?
"I'm not saying that Steven Bergwijn is like this."
"But in general, a lot of players normally think that they need, that they deserve, to play. The coach makes the decisions and I think, because I've experienced this myself when I was coaching teams, that the player first needs to show himself what he wants. So he needs to be ready to show the coach that he's very eager to play, and show of course, quality. I think every coach is probably saying to every player, 'okay, you're allowed to make mistakes, but I want you to work in a certain way, you need to work hard. And I want you to do this in your position.' And if you're not doing what they ask, especially when you go to the highest level, if you're not doing what the coach wants, then it means that you become untrustworthy on the pitch."
"That means, if the coaches cannot trust you on the pitch in what you need to do, then the whole system and the whole team plays differently, because you need to work in a certain way for the coach, for the team, to get the best out of the team, and if you're not willing to do this, or you can't do it, you can't bring it to the level, then normally, the coach will say, 'Okay, I'm going to pick somebody else who is willing or who can do this.'"
How do you perceive the situation with Donny van de Beek at Manchester United/Everton?
"He needed to play. I've worked with Donny at Ajax at the u-23s, when I was a coach over there, and he came to the U23s, before he joined the first team. And Donny was a very clever player, he knows what he wants. He's intelligent, he understands that when you go from Ajax to United, that you don't always get in to the first team straightaway. You need to show yourself in the training sessions, to the manager to get a chance. So I believe that Donny was working hard in training sessions and that he was willing to show himself."
"For some reason the coaches are not picking him. Maybe he's too attacking minded. He wants to go forward. The coaches have favoured two holding midfield players and I think for Donny, that he didn't get enough chances to show himself, because it's not only about getting one game or a couple of minutes. No, you need several games and I'm not saying that the coach is to blame, because there's a lot of tension on the games, there's a lot of tension on the coaches. Of course I can understand that a coach is not saying 'yeah, but I cannot give him a couple of games to see how he does' and then risking, if he's not working out, that we might lose more games. I can understand that in a way. But I can also understand that you need to trust your players, you need to give confidence to players. Sometimes, of course, you need to give them a little bit more extra time to show themselves in what they can do and also maybe play a little bit more attacking minded."
Do you think he should take the chance of going back to Manchester United and go for the starting XI, or should he make a permanent change to Everton or somewhere else?
"Donny needs to play if he wants to have a chance (at the World Cup squad) and wants to improve himself and become a better player. He needs to get playing and it's always nice to go to one of the biggest clubs in England, but maybe sometimes you need to make that choice to go to a different club and then maybe play for a year or two years somewhere else so that you get used to everything, to get used to playing in a Premier League. It's a totally different way of playing than in Holland. The physicality of it, the pace of it. Different players, better players that you need to face and then after that, also still make that step to a big club in England or maybe in Europe."
How do you summarise the current quality of the Dutch squad? Do you think it's stronger in some areas than in others?
"The quality is okay, it is quite good. It's not consistent enough at times. That's what you see in the qualifying games that we've played now as well.
"In general the results are quite good. But if you're looking at them playing, then sometimes they struggle a bit, or they're not dominant enough, and that's why I think the coach is sometimes looking for a different system as well to get more out of it."
"Some players are playing in big teams, big leagues, some players are not playing and we have a lot of young players as well. But I think we can do well. When (Frank) De Boer was the coach, you could see at times as well, that against certain teams we did quite well, but then when we got to the tournaments, we went out of the tournament quite quickly because we were facing better teams. That means that the team needs to adjust to them as well. I think there's still work to be done, but with this coach he's got the experience so he knows what to do."
Who do you see as the best young prospect right now in Dutch football?
"If we're talking about young players, then of course there's still (Mathijas) de Ligt. He is still there. He is still quite young in the defence of course, one of the youngest. There's still Frankie De Jong from Barcelona, although he's playing at a certain level, he's in his early 20's, and he's still a very good player."
"I think these two are very, very good for the future for us."
"So you need to have that mixture of experience and young players and I think that's what they have now. We've got in Germany a young player who got injured last week. I think a serious injury at (Bayer 04) Leverkusen, (Jeremie) Frimpong is a Dutch player. He is a full back as well with pace."
"So we still have quite a few good players, who can make a lot of steps. There's (Ryan) Gravenberch from Ajax, he's in the national team. He's very young, but he's got very good ability to make these steps to the highest level so for the future there's enough Dutch players coming up I think."
---
---
LATEST COMMENTS
No comments yet
---