football
| Tuesday, December 20, 2022 1:26 PM
(Revised at: Tuesday, December 20, 2022 2:12 PM)
Talking Football With....Mikael Silvestre: Kylian Mbappe Should Have Won World Cup Golden Ball, Not Messi
dpa picture alliance / Alamy Stock Photo
In the latest edition of a series of exclusive interviews, former France international Mikael Silvestre told us that Kylian Mbappe should have won the 2022 World Cup Golden Ball award instead of Lionel Messi. The Argentine lifted the individual award – along with the World Cup trophy – on Sunday evening. Silvestre spoke about that final and previewed the upcoming fixtures in the Premier League ahead of its return on Boxing Day.
---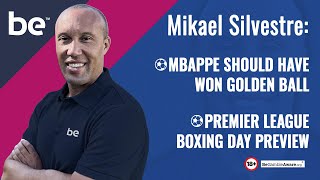 ---
Greatest World Cup final ever, in your opinion?
"I haven't seen all the World Cups but from what I have seen in my time, I would say that this final was the greatest ever.
"I was in the stadium and it was an amazing game to watch. Of course, when you're on the losing side you hate that the game is decided by a penalty shootout. But the final was absolutely fantastic and I really enjoyed it."
Do you think that Messi was the right winner of the golden ball?
"I think that Kylian Mbappé should have won the best player of the tournament. He scored a hattrick and Lionel Messi was not as dominant in the final as he was in the semi final."
"I think that Mbappé had a better tournament overall and he had a bigger impact on the team than Messi. But Messi is Messi and he was on the winning side and because of that he got the golden ball."
And do you think Mbappe will go on to surpass him? What is needed to do that?
"Mbappé is only 23 years old and he has great potential. He has the potential to become one of the greatest of all time. But it all depends on him and how he is going to raise the bar."
"But he shouldn't worry that much about the World Cup, he should worry about the Champions League and the Ballon D'or."
"When you play for a country as France then you have a bigger opportunity to become the all time top goal scorer."
"It's easier to do it when you are from a big nation and he will get the opportunity to score a lot of goals in the future."
With the final done, what's your Team of the Tournament? Any changes to your previous one?
"The only change I want to make is to take Antoine Griezmann out of the team and replace him with Mac Allister. He had a really good tournament."
Hard luck for France to lose out on penalties but overall what was the biggest positive from this tournament for them?
"The capacity to be competitive with a lot of players out with an injury is amazing. To be able to replace that many players and still reach a final is the biggest achievement in my opinion."
And the biggest negative?
"The biggest negative is our first half against Argentina. We should have performed much better and I think that we would have won the final if we were able to play at our top level throughout the whole game."
"Obviously the game against Tunisia was disappointing as well because we really played badly in that game and lost three points."
Do you think the illnesses in the French camp leading up to the final affected the result?
"Maybe it did but I still believe that even with fever your body is able to deal with it in such an important game. I don't think that the physical aspect affected us anyway, the biggest problem was the mentality."
Some parts of the French press claimed that Argentina's third goal should not have stood as a couple of Argentinean substitutes had entered the pitch during open play. Where do you stand on this?
"Of course, we have rules in football and we are supposed to follow the rules. But it didn't affect the game at all, so I don´t think we should be focusing on that at all. It's only a bad excuse."
Of course, some veterans will move on from France but which players do you think will be the core for years to come?
"The younger players like Mbappé, Tchouameni, Camavinga and so on will be here for a long time. Deschamps can count on them to be starters and important players in the years to come."
"Our centre halfs with Upamecano and Varane will also still be there and they will be a very important part of the team."
Mike Maignan is the natural replacement for an ageing Hugo Lloris but are there any other French goalkeepers who you think can be a good option for the national team in the future?
"Mike Maignan is there to take the role as the preferred goalkeeper. But after that I don't see a young goalkeeper at this moment in time being dominating and becoming a possible future goalkeeper."
Do you think Ousmane Dembele underperformed, not just in the final, but in the whole tournament?
We expected more from Ousmane Dembele because he has performed so well for his club. But unfortunately he was not able to replicate that. But we also have to say that it's very challenging to be an attacking player on the same team as Mbappé because he sets the bar so high. He is so good and it's difficult to do the same as he is doing."
Who could be a good successor to Didier Deschamps as France coach?
"I think there's a desire from the French Federation to continue with Didier because the Euro qualifiers start soon and we didn't lose the final. It was a penalty shoot out."
"He should stay because the team clearly followed his lead. He has the support of all the players which is important."
Karim Benzema has announced his retirement from international football. Did France get to experience the best of Benzema?
"Absolutely not. He was out for four or five years and that's a shame but it is what it is. It's a pity he couldn't play at the World Cup as clearly the last two seasons have been his best. As a French fan I would have enjoyed him playing and wearing the French jersey."
Which club do you think will underperform and which one will overperform once we resume the PL?
"Some dynamics will change in the league."
"There's been a break and a time to work together for some of the managers, staff and players that weren't at the World Cup. You will expect the negative dynamics to improve during this break. You become a better side in certain aspects."
As we come back to the Premier League, which Man Utd players do you think will have a point to prove?
"The English players like Marcus Rashford, Luke Shaw and Harry Maguire will come back with a positive mindset. They'll have a better second half of the season."
"I hope Anthony Martial will be fit and score goals. He needs to play regularly for the team and bring his qualities to the team."
Lisandro Martinez now returns as a World Cup winner alongside Varane who has already won a World Cup. Can Maguire break down this partnership or should the captain look to move on in the summer?
"United will need to give some time to Varane and Martinez after the World Cup to rest. Overall, I think the strongest partnership is Varane and Martinez. I expect them to be the CB partnership going forward."
He's not first choice, so do you expect Harry Maguire to stay at the club long term or see him moving on in the summer?
"I think for him, it's about playing. As a CB, you need to start. If you're on the bench, there's little chance for you to come on and have game time."
"It depends on what the manager is going to be doing, if he's going to be rotating players for different competitions."
"You don't go for the sake of going. You need to assess the situation because sometimes it's easier to say, 'I'm off' but in fact, you might as well stay and fight for your position."
"It's really up to Harry, to assess the situation and if he can find a way to play at United and be the rock at the back he was and come back to his best."
"He's shown with England that he's on that path. He's not far. He has to continue and fight."
United's first game is tomorrow against Burnley. Expect to see the strongest XI or some of the bench players?
"I think it's important to start strong and set the tone. There might be a few changes but not too many. Burnley are a strong team in the Championship. You want to try and win the competition so it's important to play a strong team and maybe not a game for the younger players."
Is the Carabao Cup a tournament that Man Utd should target to win? Or should priorities be different?
"United should try and win all competitions. To build success you have to start somewhere. Whether it is the Carabao cup, the league or Europa League. Take advantage of an opportunity to win a trophy."
United resume their PL campaign against Nottingham Forest. Should that be a straightforward win?
"There's no easy games for Manchester United. Old Trafford needs to become a fortress again. Teams should come to Old Trafford with little hope but now it's almost a 50/50 game. It's important to respect the opponents by being aggressive and try to win the game."
Any new game styles you expect Erik ten Hag to implement once the league resumes?
"I think the team is on the right path."
"Again, the consistency that Man City and Arsenal are showing, and Liverpool in previous seasons, that's what Man Utd need to aim for. Excellence in every game."
"You cannot have a good game and then a bad game and a good game again."
"That's what needs to be done."
"They can hope, in the mid-term, that the team can go back to a fighting position for the title."
Can we expect a Donny van de Beek renaissance in 2023? Or do you think that ship has sailed and his future lies elsewhere? What does he need to improve?
"We haven't seen a change for Donny van de Beek unfortunately."
"He hasn't had a lot of opportunities to start. We haven't seen the player he was at Ajax."
"If it's not within the next five-six months, till the end of the season, then there should be a change."
"Yes there are a lot of games to come so there will be a need for fresh players. We expect him to come from the bench and grab the opportunities."
"It's hard when you don't have a run of games. Let's wait and see for Donny van de Beek."
United have been linked with a raft of midfielders including a return for Frenkie De Jong, Jude Bellingham and Mohammed Kudus. Which of these are realistic and what will each bring to the ten Hag's team?
"The club is always linked with many players and always looking at opportunities and targets for the next window."
"But, you're not working for the January window. It's an emergency window or an adjustment window."
"Apart from losing Ronaldo, I think there's enough quantity in the attacking positions to cover until the end of the season."
"I don't expect any signings this season in the winter."
The Gunners resume their Premier League title run on Boxing Day against West Ham. Expectations from the match?
"Big game. I think Arsenal will continue to march and they should beat West Ham in that game because they've shown that it doesn't really matter who they're playing against, they'll play the same type of football. They finish their chances and are pretty good defensively."
"They didn't have a lot of players involved towards the end of the World Cup. Yeah they lost Jesus but I think they will be in good shape against West Ham and win this game."
Emile Smith-Rowe's return is still not set in stone but do you think him returning will be good for Arsenal?
"Yeah he's a very good player. I like him a lot. A very good academy product."
"He's experienced and knows exactly what the manager wants."
"It'll be excellent for Arsenal when he's back."
Fabio Vieira has had a great start to his Arsenal career. How do you see him contributing to the campaign this season? Do you think he has the potential to be a starter for Arsenal in the future?
"He's not a starter but he's just arrived and went through injuries."
"He's learning about the club, his teammates and I think during the second part, he should play more and more."
"He's shown the few times he's played that he has what it takes to play under Mikel Arteta."
Which Arsenal players will have a point to prove once the season resumes, in your opinion?
"I don't see anybody really having a point to prove."
"Probably Smith-Rowe, should try to impress and break into the team when he's back."
---
LATEST COMMENTS
No comments yet
---