football
| Friday, January 14, 2022 11:57 AM
Rory Jennings Backs Chelsea to Beat City this Weekend - But Not to Win the Title
Rory Jennings has claimed that Chelsea will beat Manchester City when the sides meet on Saturday afternoon but that it won't have much of an impact on the Premier League title race. In this article, Rory discusses the following topics:
Chelsea's chances of beating Manchester City on the weekend
Chelsea's chances of winning the Premier League title
How Kepa Arrizabalaga has improved at Chelsea this season
---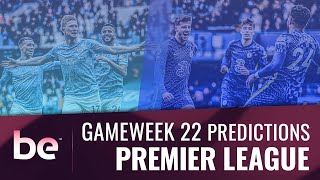 ---
Broadcaster Rory Jennings once again appeared on bettingexpert's YouTube show, The Big Stage to give his latest thoughts on all things Chelsea. Rory was asked about the Blues' crucial match with Manchester City this weekend. 10 points now separate the teams in the table after a contrasting few weeks. City are on a lengthy winning run while Chelsea have shown their vulnerabilities in recent months. Still, Rory backs the Blues to get a result at the Etihad this weekend.
"As much as I'd like to be really optimistic here, I think that irrespective of the result on this weekend's game I feel like Manchester City going to be too strong and are going to win the league," Rory said on bettingexpert's YouTube show, The Big Stage.
"Saying that, I do think that Chelsea are going to win the game. I think that Chelsea have proved that we have the beating of Man City. I think that the way that we play against City is is the perfect way and in the Tuchel versus Guardiola gladiatorial row, Thomas Tuchel comes out on top.
"You know we beat them when it really matters. We've beaten them in the FA Cup, we've beaten them in the Champions League final. I think that Chelsea certainly have it in them and certainly have the minerals for us to win the game. I just don't think it's going to have too much of an impact on who ultimately is crowned champions in May.
Chelsea are out at 34.00 to win the Premier League title. Those odds have dropped from around 4.50 at the start of the season and as low as 2.65 at times this campaign. They're available at 5.30 to win Saturday's match despite beating City a few times in recent years.
Rory also spoke about Chelsea's backup goalkeeper Kepa Arrizabalaga. The Spaniard is set to start on Saturday with first-choice goalkeeper Edouard Mendy at the Africa Cup of Nations.
The former Athletic Bilbao man has had a troubled time since his world-record move to Stamford Bridge. Some high-profile errors and a public falling out damaged confidence and led to the addition of Mendy. Rory, however, believes that things have changed this season.
"There was a time when I said that he was Chelsea's worst ever signing and I truly believed that. Just in terms of how much he cost, the expectations, the fact that [Thibaut] Courtois made way in order to bring him in and the way that it had gone so stale.
"The fact that we put him on I think it was a seven-year deal at the time it just felt it felt crazy. It felt like we got it so wrong and panic bought because of what Thibaut Courtois did to Chelsea forcing the move.
"We panicked and bought Kepa Arrizabalaga off the back of one half-decent season in Spain. It felt like we'd got it wrong and I would say that that's probably still true. I would say that Chelsea probably still got this one wrong but not to the extent that I was saying before. Not to the extent that he is one of the worst signing shows we've ever had. Far from it.
"What he's managed to do and this is also credit to Thomas Tuchel is contribute significantly to Chelsea's season. We went to Belfast and beat Villarreal on penalties he was the reason that we won the Super Cup.
"He's had these various moments throughout the season where he has contributed which has increased his confidence, it's increased his own belief it's increased the belief in him from both his teammates and the fans. I think now all he's got to do is bridge the gap that we're without Edouard Mendy and I think he can just about do it.
"That doesn't mean he's forgiven for the way that he disrespected the position and status of Chelsea manager when he wouldn't come off the pitch when Maurizio Sarri sacked him. He would never be forgiven for that but he's doing a job at the moment so I can just about tolerate him."
---