football
| Tuesday, March 29, 2022 10:15 AM
(Revised at: Wednesday, March 30, 2022 10:06 AM)
Talking Football with....Jaap Stam: Part 2 - The Manchester United Saga
Contributor: PA Images / Alamy Stock Photo
Moving into the decisive parts of the Premier League season, we caught up with Jaap Stam. The former Manchester United star and Dutch international discussed the managerial situation at his former club, his thoughts on Harry Maguire and the criticism he gets. Jaap Stam also talked about where Manchester United needs reinforcements and how to fit Paul Pogba and Cristiano Ronaldo into the team moving forward.
---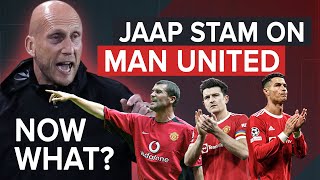 ---
Do you see that Ralf Rangnick could be the permanent manager or should they make a change in the summer?
"I don't know to be honest, and I'm saying that I don't know because I don't know what the owners of the club want to do in the future. In decision making, in appointing a manager, when they sacked Ole (Gunnar Solskjær), I think they could have tried to get your permanent manager straightaway."
"Then they got Ralf Rangnick. They got him from Russia where he was a technical director somewhere and you appoint him as a manager for Manchester United? Is that because other German coaches are doing well in the league, so we need to have a German coach as well? Was that maybe the cheapest option at that moment that was possible? Do they really see him as their coach for the future?"
"But they also straightaway said, 'Yeah, we're going to appoint him, but we are also going to use him as an advisor for the next coach to get within the club'."
"I'm thinking, what is that decision being made? That's what I find a little bit strange, to be honest. Rangnick was a coach, and that's what they like the owners, probably. That's what they've seen with other coaches such as (Jürgen) Klopp, (Thomas) Tuchel, as well as other German coaches in England."
"Maybe because they want to press and that's what Rangnick spoke about when he joined Manchester United? Well, you don't see them press! They hardly press, they are still holding back, they're not dominating enough games, I think in a way of playing and how they need to play. Because I still think sometimes that's what we forget, that they still have very good players at United. I still think that with these players, you can still dominate the game."
"The only thing is, I'm thinking when I look at the games, I don't understand certain positions that the players are taking up. It looks like it's not been worked on in training sessions. But I might be mistaken because it's only our view from the outside. And from what I've heard from others, from other people who know Rangnick as well, they say he's a very good coach. And tactically he's good as well. So it's a little bit difficult to understand what's going on within the club and what the players want as well. It's up to the players, of course, as well. But it's also up to the coach, and the coach has a very important voice in what he needs to do with these players to get the best out of them.
Is he going to be the coach for next season? I don't think so. That's just my feeling and what I think. I think they're going to go for somebody else."
Do you think Erik ten Hag would be the perfect choice for Manchester United?
"I think he can let them play in a certain way. He's been doing that at Ajax. Let's suppose he goes to Manchester United, he needs to have the right players. He needs support from the owners and the technical director to ensure they bring in players of certain abilities, so they can play with a philosophy. Because if you bring in a coach, if you're bringing the coach for a certain philosophy, you also need to help him out, give him a voice in making decisions for that type of player that he needs. And if you're not able to do that or if you're not willing to do that, then it becomes very difficult for a coach to play a certain philosophy, to make it possible for him, and also for the fans to get them on side."
There's been a lot of talk about Harry Maguire in the central defence. What do you think about his performance for United this season?
"He's an easy target because it's easy to say that he is making mistakes or wrong choices."
"Everybody, even when I played, I made mistakes, I made wrong choices as well."
"I think for him, and that's what I meant, by what I said before, he also needs to have help from his teammates. He also needs to have the confidence of people around him and they will have for him. But also from outside as well, so he can make these steps. I've seen him play before as well when he was at Leicester, and he played good games. Yeah, sometimes now, when you see him play, he doesn't look confident at times or not making the right decision. But that's also part of a player and his career path. Sometimes you get ups and downs, you play well, and then you go down a little bit. But it's about how you pick yourself up to become a steady player."
"And I think for him, they need to help him out as well. They need to tell him as well what he needs to do, and how he needs to play. He's doing well within the national team as well when he plays. So he's shown that he can play at a high level in the national team, not only for the country but also I think at Manchester United."
"It's easy for everybody to say that Messi or Ronaldo are great players because they score a lot of goals. Yeah, when a player is not doing well. It's also easy to say, 'he's not doing well', or 'he's not performing well, so you need to make a different choice'."
"No, it's about letting people say, 'okay, what do you need to tell the player, so he becomes a better player?'. And that means individually and give him a few pointers that make it easier for him to become a better player."
"And now we're talking specifically about Harry (Maguire) as an individual, but also the players around him. The midfield players and the other centre back, the two full backs and the goalkeeper. They also need to help him out, to give him more options on the ball or to take a better position so he feels maybe more comfortable defending."
"So it's not only about one thing, it's about several things that need to come together to eventually come out on top."
As a former centre-back of Manchester United, how do you assess Harry Maguire's form this season and role in the Manchester United team?
"I still think that he can do a lot better than what he's been showing now. And I'm not saying he played very poorly but he has got the ability to improve."
"And if you bring in players of a certain quality or bring players in of a certain value, then you need to help this player out as well, to become a better player. I'm not sure that this is happening."
"I'm not sure if really, coaches you know, are working individually at times with the back four-five, with these players – not only him but also the other players."
"Because there's also some very young players – Rashford and others – that are in that squad that has a lot of potential but you also need to work with them individually. Extra sessions, or different sessions, to get more out of them."
Many feel Manchester United need reinforcements in multiple positions – what positions on the pitch do you feel are most important to address?
"I'm always, as a coach, thinking about my own system, so I can only speak from my point of view on how I want to play. I cannot speak for a coach of United, to say he needs to play this or that because then the coach might say, "yeah you can say this but I need to have these players because I want to play in a different way"."
"When I'm looking, in the midfield, you need to have an extra midfield player because I would play with more or less, one holding midfield player and two attacking midfielders at times."
"Sometimes you can rotate with one attacking midfield player to get next to the one holding player. So you get two holders when you need to defend in a block."
"But these midfielders need to have the ability to also play higher up and that's why I think Donny (van de Beek) has that ability."
"Give him more opportunity to come next to Bruno (Fernandes), maybe as two attacking midfielders so you have more pressure going forward."
"I think it's a more interesting way of playing than playing only with two holders."
Where should Paul Pogba fit into that system?
"You can also play with Paul Pogba in a system like this. I think Pogba can play as a holder, he also has the ability to play higher up the pitch eventually when you're dominating and the opposition is dropping back all the way in front of their own box."
"He can also play higher up because he has the ability to make these small passes to get in there, he's got the ability to play a little bit deeper and to play these diagonals to the other side of the pitch. He can help the defenders out in the build-up play as well, taking up certain positions. He's got the legs to run from box to box."
"This is my point of view that he can play in that system as well, with (Scott) McTominay or Fred or Bruno."
"Then you need to have your wingers of course as well. Play with wingers who can play out wide but also come on the inside."
"Then you can also work with your fullbacks, playing higher up the pitch. You're very versatile in how you want to play and what you can do?".
What about the case with Cristiano Ronaldo, should Manchester United keep him or sell him next transfer window?
"It all depends on the coach who's going to be there next season."
"I think Cristiano has proven this season that he can still score a lot of goals. He's still very fit, I still think he's very eager to do well and be important for the club."
"But with a player like him, if you want to play him or you want to start him every game, that means you need to build your system a little bit around him in how you want to play."
"That means you need to have wingers that can use him, come play on the inside. You need to play with full backs that can go high up the pitch."
"You need to dominate, you need to play in the opposition's half every time so he gets into the box, or around the box every time or the majority of times in the games that you play."
"That's how you have to adapt your system to him if you keep him. But without a doubt, next season, if he stays, he's going to be important."
"A very important one for a club, and for a coach, is to go into talks with him and what he wants and how he sees it. Maybe he wants to stay, maybe he is looking at it for the next season, maybe he's saying 'okay, I want to start every game,' or maybe he's saying 'okay I want to start two games a week instead of three."
Which players at United do you see as being core to potential success in the coming seasons?
"Well, the midfield of course, and the defence is very important."
"When you're looking at the squad now, there are a few players I think you work around in building your team. That's Cristiano if you want to keep him. I think Bruno as well, in the midfield. I would keep Pogba, also there is a big discussion, but I think you need to use him in a certain way because I like him as a player and what he can bring."
"These are three players that I'm thinking okay if you can use them then you need to work the team around them and try to create the team around them so you can play very nice and attractive football." "You've got wingers, Rashford on the wing, with a lot of pace. There's Sancho as well for the other side that you can use as well. With his right foot, he comes in from the left, on the inside with his right. That means you need to have a full back who is very fit and very good on the ball and can go up and down the pitch for 95 minutes but not be injured occasionally. Trying to have somebody who can be up for it, week in and week out and play a lot of games. That's what you need to have on the right side as well."
Do you think Manchester United should bring in a former player like Roy Keane, to put some discipline in the side? Do you think they need a leader like him or like Jaap Stam?
"You need to have leaders, people on the pitch who tell other players what to do or set them straight at times. I don't know if that happens now, I don't know when I'm looking at these games, you don't always see it."
"Maybe it happens but in a different way. In the period when I played, we were much more direct with each other in what we expected from each other. Much, much tougher and harder in our comments to each other."
"Now, and that's also maybe a society, it looks much more delicate in how we talk to each other. We're afraid to tell each other the truth because the players need to understand that it's their job when they're on the pitch."
"It's your job, it's your work, it's not your hobby anymore – it's your work. You need to work hard, you need to put everything into it to provide all your knowledge and abilities so you come out on top as an individual and eventually as a team. That's what you need to look for and sometimes you need to have players in that team that help you out."
"I think these players, nowadays, are difficult to find. There are not a lot of players nowadays who are doing this. The approach is in a different way and sometimes that helps out, works out."
Could you envisage going back to Old Trafford in a coaching / managerial capacity?
"If they would ask me, I would do it straight away without a doubt."
"You know United is my life as well. I've had great seasons over there, won trophies and it's been very important for me. In any way, if I could help them out, I would be tempted to do it. I know they are probably not going to come and call me, but also in a different role, and that counts I think for every player who has played for United. I think everyone is very eager to help the club and hopefully, bring them to the absolute top level."
"Like I said, you never know, that would be interesting."
"It's all about owners, it's all about technical directors, it's all about coaches that step in, who do they want as assistant coaches. That's how it goes."
---
---
LATEST COMMENTS
No comments yet
---